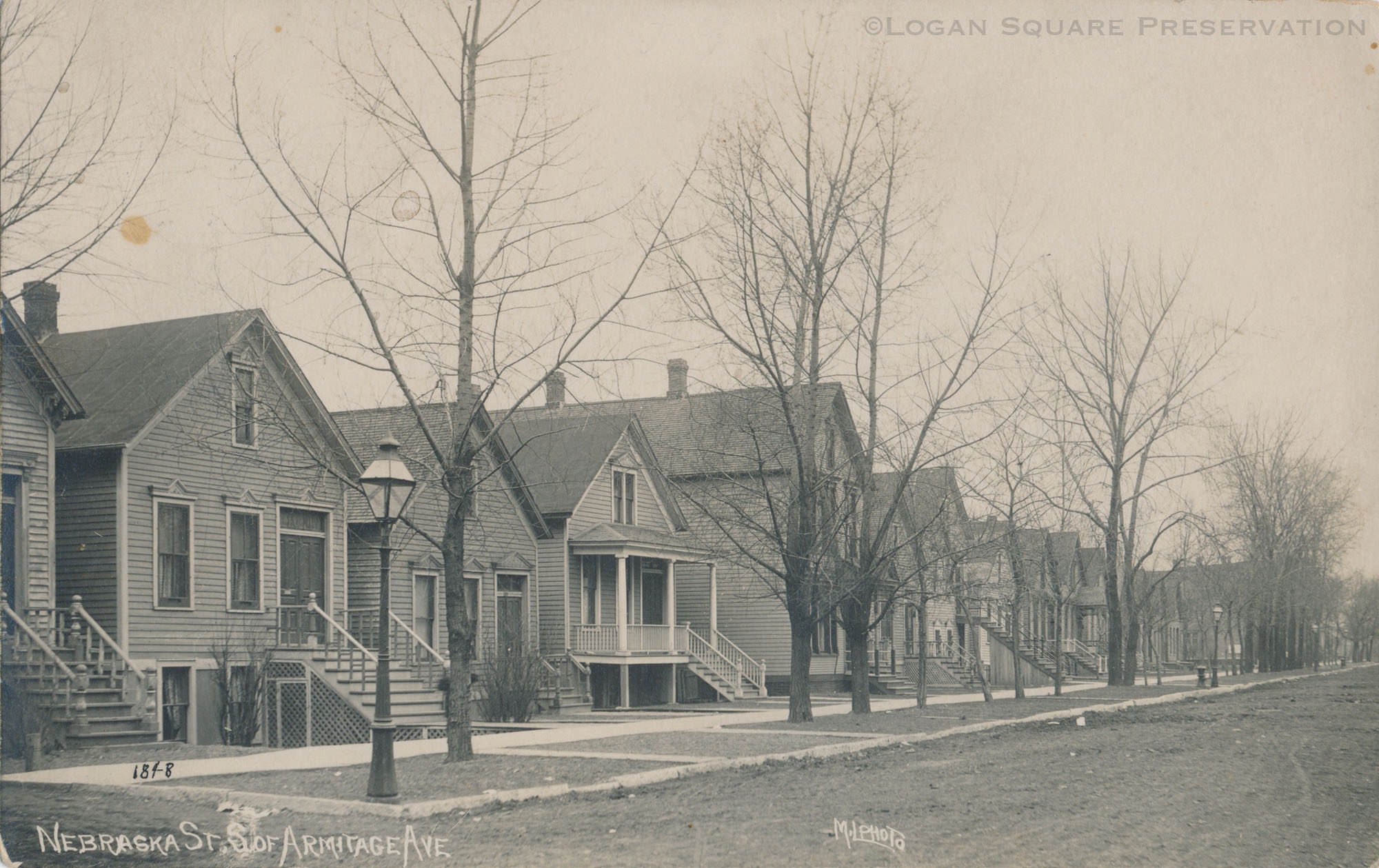 A History of the Chicago Workers Cottage
The workers cottage house type derives from earlier vernacular house styles in the Midwest. These simple gable-roofed dwellings were typically built with a central entrance on a side perpendicular to the roof orientation. In Chicago, this house style was adapted to fit the constrained urban space of a typical 25' x 125' Chicago city lot by turning the building and entry to face the street.
A birds-eye-view map from 1868 shows hundreds of these simple gable-roofed frame houses crowding the streets on the north, south and southwest outskirts of the central business district. Though the outer areas of the map are not depicted in great detail, zooming in to the area of what is now Chicago & Wabash Avenues we can see several rows of 1½ and 2½ story frame houses interspersed among larger brick tenement apartments. Three years later all of the houses in this area would be destroyed in the Great Chicago Fire.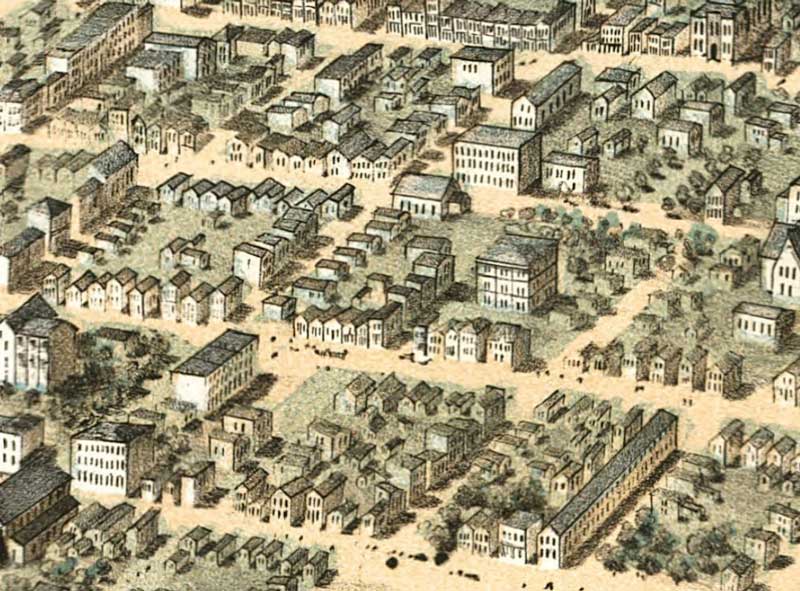 After the 1871 fire and a smaller conflagration in 1874, Chicago banned construction of new wooden buildings within the city limits, despite the protests of working-class residents who could not easily afford expensive brick construction. Buyers seeking more affordability sprawled to Lake, Jefferson and Lakeview townships outside city limits to build frame houses without restriction. Industries such as the Chicago Stockyards, too, moved to the city outskirts, increasing demand for new subdivisions and working-class housing. Many of these outlying areas were later annexed to the city and received city water and sewer services.
The rapid development of these new neighborhoods was enabled by Chicago's location as a central marketplace of natural resources from a wide territory. From northern Wisconsin and Michigan, dense old-growth pine forests supplied the lumberyards stretching southwest of downtown Chicago along the South Branch of the Chicago River. The world's busiest lumber market supplied the growing sprawl of workers housing around Chicago and also shipped materials by rail to build the new towns of the Midwest and West. The "balloon frame" technique of house building, which used long, straight upright beams to quickly frame walls of the house, was more economical than older methods to construct and made possible by standardized sizing of boards from the centralized lumberyards.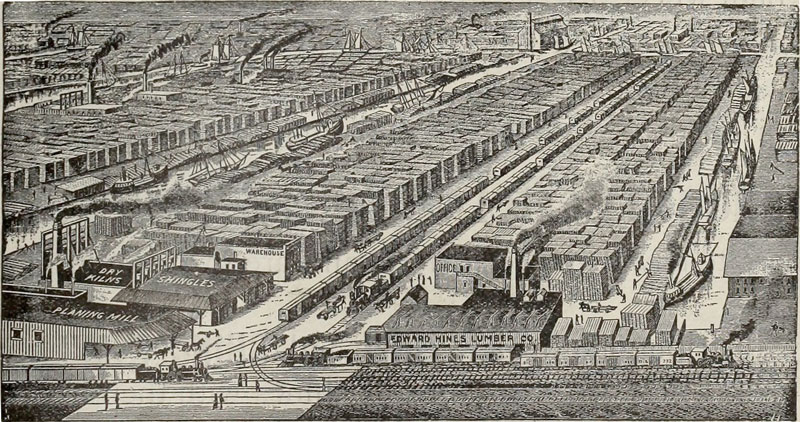 During the building boom of the 1880s-early 1890s, the city sprawled outwards along new commuter railroad and horse-car transit lines. Commercial developers and real-estate speculators purchased former prairie and farmland to build new subdivision housing, including thousands of new workers cottages. Samuel E. Gross ran one of the larger development firms and may be best known today in part becuase of the well-illustrated advertisements his company published. Large builders often offered payment in four annual installments which made the houses affordable to working-class families. Cottages were also built by independent carpenters and sometimes homeowners themselves.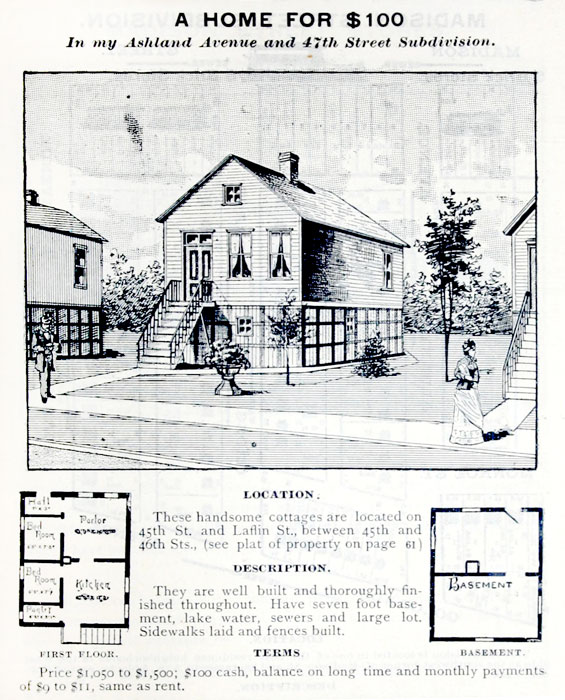 Upton Sinclair's 1906 novel The Jungle describes the Rudkus family's struggle to keep up with the monthly payments on a house in the same area as the one illustrated in Gross's brochure above and perhaps similar to it. While many families no doubt were taken advantage of by unscrupulous developers, successful home-ownership meant a hard-won bit of stability at a time when working class jobs provided little economic security. In tough times the family could rent extra rooms or take in boarders to help pay off the mortgage. In prosperous times they could add room for a growing family with an addition in back, or even raise the entire house to build another rental apartment floor underneath. Some frame two-flat and three-flat buildings started out as smaller 1-story workers cottages. Workers cottages were often altered extensively over the years. These modifications tell the unwritten history of all the families who have called these places home.
What's the story of your workers cottage?
Researching the history of workers cottages and their early residents can be more challenging than finding information about larger houses built by wealthier families. There may be little recorded about the house builder and its first residents will not likely be profiled in any social directories. The construction date for many workers cottages listed on real estate websites and even in county tax records is often not correct. You may be lucky enough to find a construction permit listed in the Chicago Building Permits Digital Collection by looking first for the address index by street and then searching the microfilmed ledgers by date, or you may find a permit for later modifications to your house which help tell its history.
Many of Chicago's street addresses were renumbered in 1909, so its likely that your house originally went by a different address. The street name may also have changed over time, possibly more than once. The Building Permits Digital Collection listed above may list the original address, or you can consulst guides to street renumbering and renaming will help find your house's original address.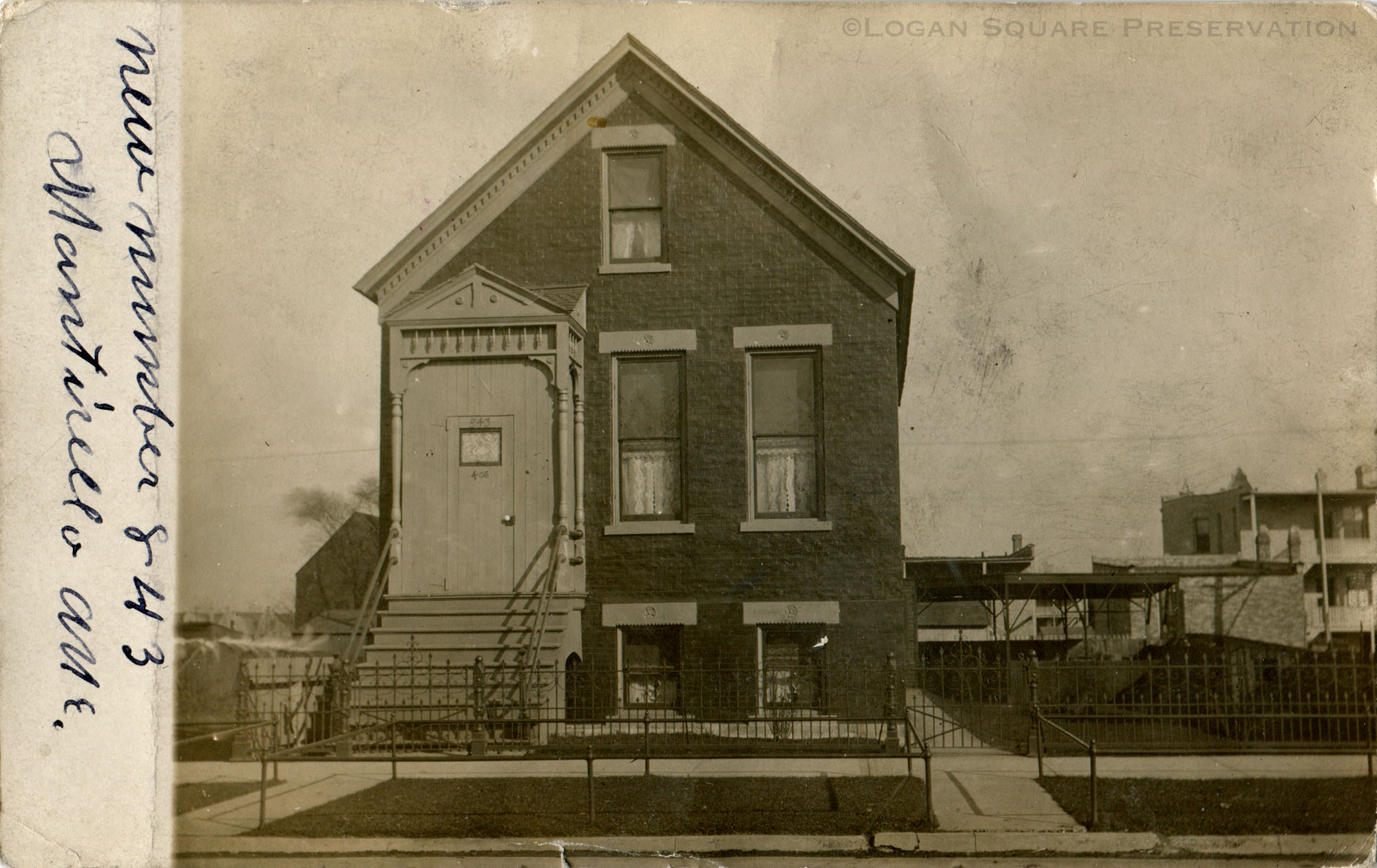 The Cook County Recorder of Deeds has chain of title records for each property in Chicago. You can see recent records after locating the 14-digit PIN number for the property, but the pre-1985 records are kept in tract books in the basement of the Cook County offices at City Hall. Locate the correct book and page for your property and you'll find a list of all transactions and owners of the warranty deeds going back to when the land was subdivided into lots (though property records before 1871 were destroyed in the Great Fire). There may also be additional information in the microfiche records of these transactions indexed in the tract books, though it is a cumbersome process to view the microfiche records at City Hall and not always worth the effort. It may be helpful to also record information about the houses on either side, as they may have been built at the same time or share a common history.
Real estate sales in the late 1800s were sometimes listed in the newspaper. Most of these listings do not include the address, making them difficult to search for in online newspaper databases, but they do include the street name and nearby cross street, seller and buyer names (often misspelled), lot size and purchase date and price. By matching this information with the Cook County property records you may be able to find the original purchase price of the house. Compare the price to other home sales on your street to get an idea of how the houses may have compared in size or quality.
Fire insurance maps are a great resource for finding clues about changes to workers cottages. The Library of Congress has scans of these maps but they are easier to search with a Chicago Public Library card. The map colors and symbols indicate building materials, footprint, height and other info. Compare Sanborn and Rascher maps from different years to find clues about changes in between.
Try searching online newspaper databases for the old and current house addresses, old street names and names of owners from the property records to see if there are any articles mentioning the house or residents who once lived there. Search the Chicago Tribune Historical Archive for free with a Chicago Public Library card. If you are able to establish a few biographical details about early residents of your house you can search for them on FamilySearch or other genealogy websites to find census records and other info about the families who once lived on your street. With some luck and a bit of work you may be able to find descendants of those families who have photos of your long-ago neighbors and even historic photos of your street.
Have you found an interesting story about the history of your workers cottage? Please share with us!
House Histories