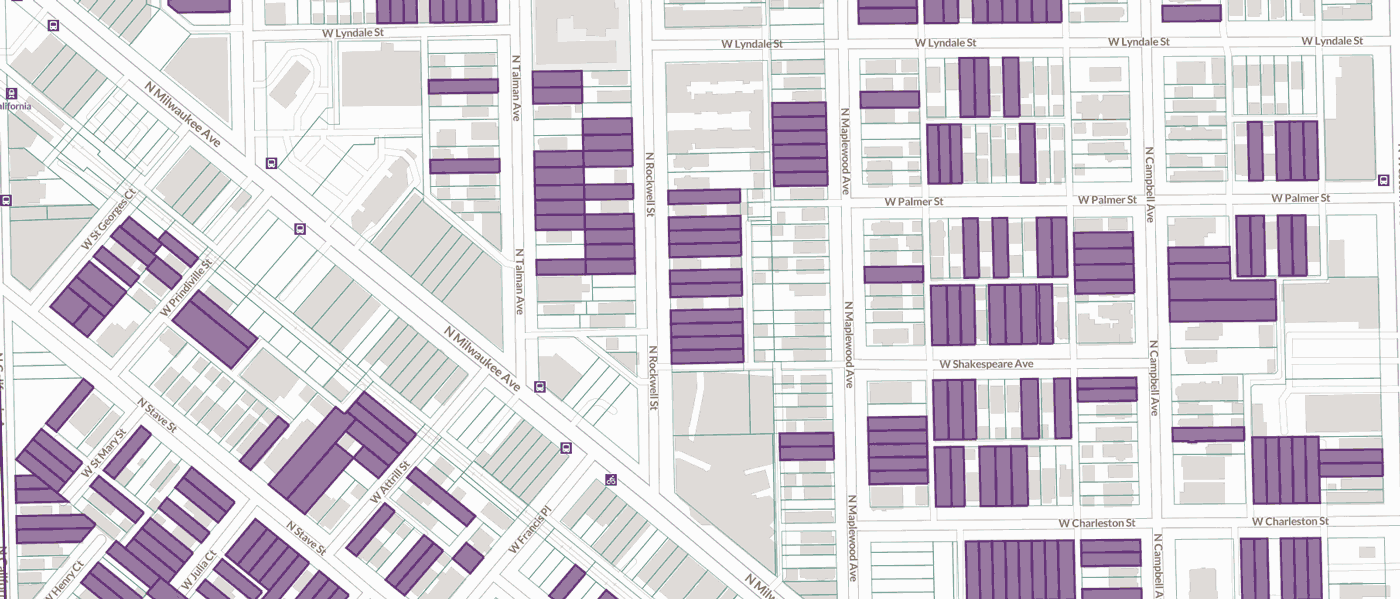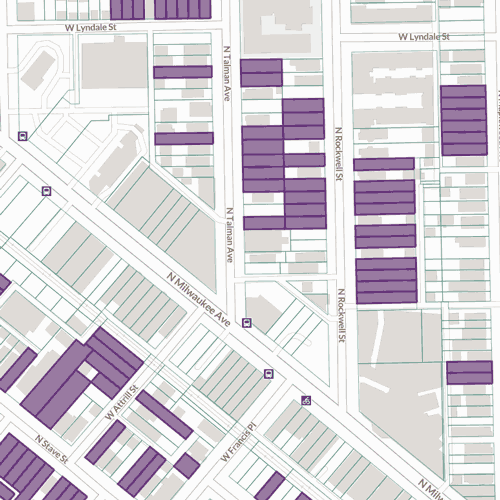 A Survey of Workers Cottages in Logan Square
In the spring of 2021, The Chicago Workers Cottage Initiative partnered with Preservation Chicago and students from the Preservation Planning Studio class at the School of the Art Institute to conduct a field survey of residential buildings in Logan Square. Led by professor Charlie Pipal, grad students London Hainsworth, David Klein, Angelica Ospina, Kesha Patel and Marian Thompson gathered information on the characteristics of workers cottages within the survey area. While the surveyors were looking to locate and identify the workers cottages, they also noted other buildings with historic character for future reference. Information on each building was recorded via smartphone using the Regrid parcel-mapping app by Loveland Technologies.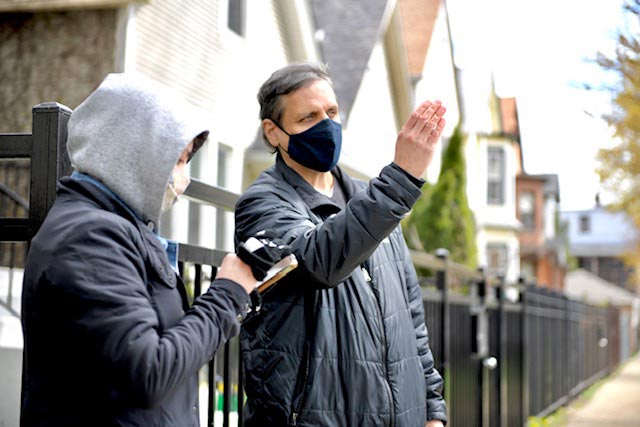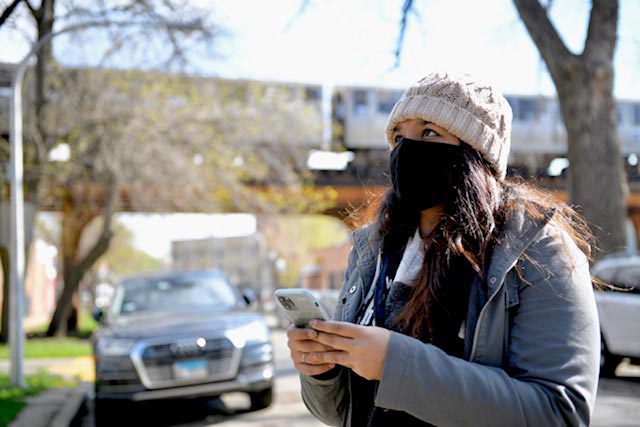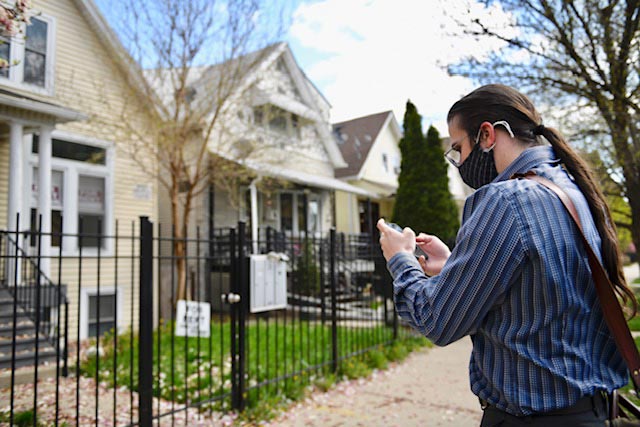 The pilot survey area contains roughly 16 blocks in a square bounded by Armitage - California - Fullerton - Western Avenues. The quarter-mile square area contains about 1225 properties in a mix of single-family houses, two/three-flats, larger multi-unit apartments and mixed-use commercial buildings. A large number of buildings date to the 1880s when the blocks were first subdivided and developed, a time when this area was just outside the city limits at Western Avenue.
What is a Workers Cottage?
Early in the survey process, CWCI discovered that we needed a more precise definition of exactly what is a workers cottage. While the classic 1-1/2 story workers cottage is relatively easy to identify, the surveyors discovered many examples of similar houses that were slightly taller, or similar in construction but with a basement apartment or an extra floor underneath. Should all of these buildings be considered workers cottages?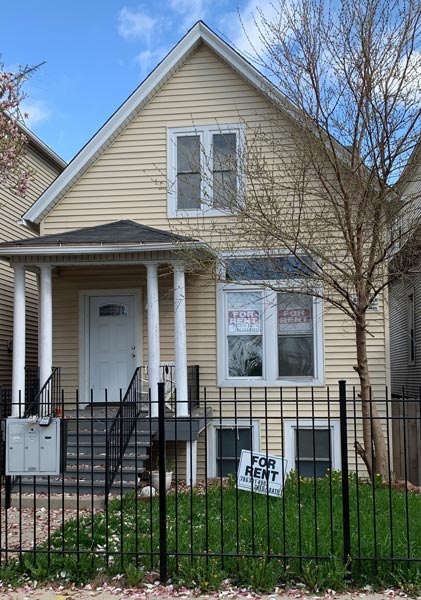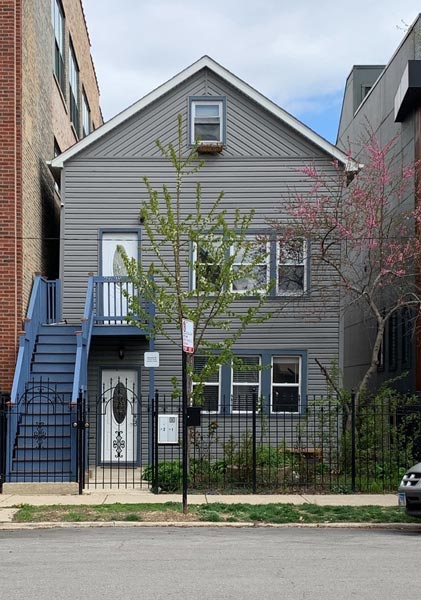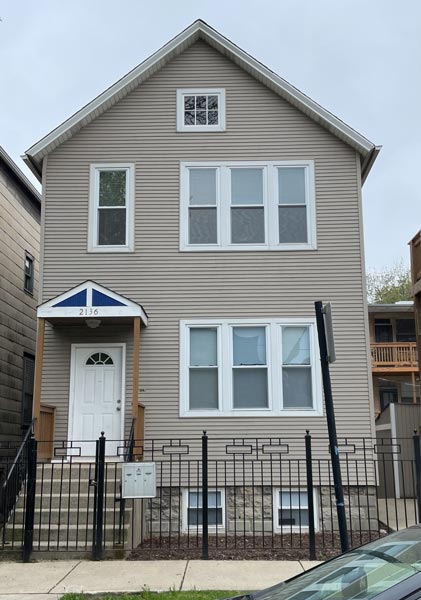 The surveyors collected data on the number of stories of each house, noting whether the building included an "English basement" or garden apartment, creating a taller basement level and increasing the apparent height of the building. A graph of the frequency of buildings at each height shows that while there are examples of cottage-style buildings at range of sizes, they are not evenly distributed. Instead the most common heights of cottage-style houses are in groupings at 1-1/2 stories and 2-1/2 stories.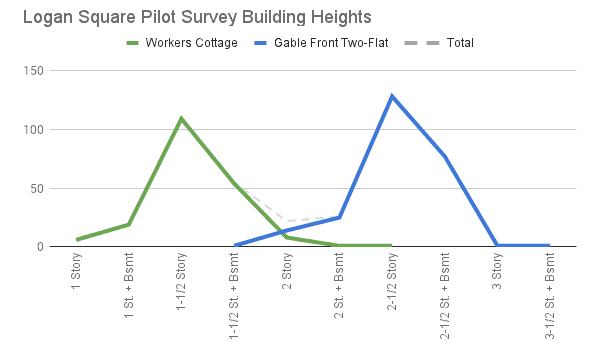 Though these types of houses are quite common in Chicago, both the workers cottage and gable-roofed two-flat remain somewhat unknown and ill-defined in the minds of many Chicagoans. As Thomas Hubka notes in Houses Without Names, naming and identifying these common housing styles clearly will bring focus and attention to their unique features and value for preservation.
We have defined these two groupings of house styles as "workers cottages" and "cottage-style two-flats". Further data on the houses in the pilot survey is broken out by these types.
A Closer Look at the Houses
Of the 1225 parcels examined, the surveyors identified 198 workers cottages and 247 cottage-style two-flats. The two housing types represent 16% and 20%, or together a significant proportion of all buildings within this area.
Of the workers cottages and two-flats identified, only a small portion of about 7-8% were built of brick. The far greater proportion of houses were built of wood-frame construction. The ratio may be specific to this area: at the time when the earliest houses here were built in the 1880s, this area was just outside the city limits at Western Avenue. The location may have been appealing to homeowners who wished to build cheaper wood-frame housing outside the city fire limits which mandated more-expensive brick construction.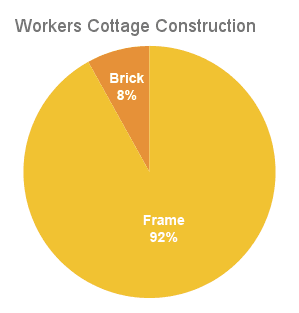 The greatest proportion of the workers cottages and cottage-style two-flats are covered by vinyl or aluminum siding. In many cases the vinyl siding covers an earlier layer of asphalt shingle siding over the original wood clapboard siding. 8-10% of the houses have a mix of siding types, which could be a modern brick facade on a frame building, or areas of permastone on the front of a mostly vinyl-sided building. Overall, a smaller number of houses have permastone facades or asbestos or asphalt shingle siding which might make the building look outdated to current homebuyers. Only a small number of workers cottages in the pilot area still retain visible wood siding which may be original, which might be considered important for "high historical integrity" as rated by traditional historic-preservation standards.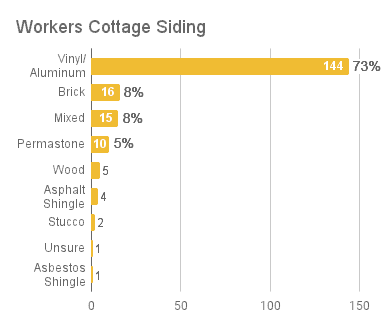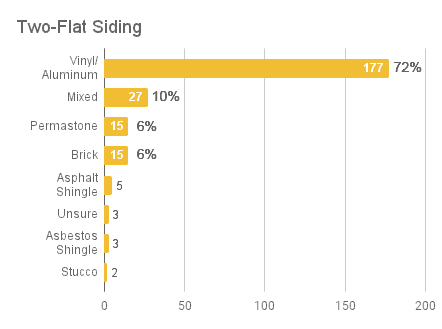 The surveyors judged roughly two-thirds of workers cottages and cottage-style two-flats to be in good condition, as determined from the outward appearance of the building. Houses judged to be in "Fair" condition may be good candidates for repair or rehabilitation programs to ensure these houses do not deteriorate further. A higher number of two-flats than workers cottages were judged to be in poor condition.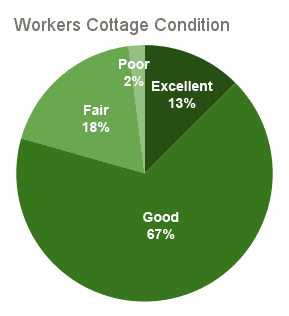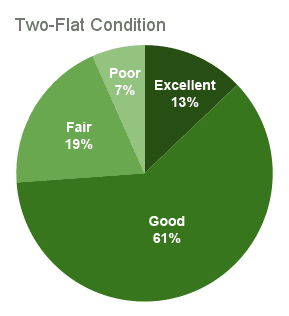 Four out of ten of the workers cottages have been enlarged at some point with a rooftop dormer to increase space on the top floor. Over the decades since these houses were built, many may have also been enlarged with rear additions, or raised up on taller foundations, or even been transformed from cottages to two-flats. These changes are often not as easily identifiable visually as a top dormer, but are other examples of how frame houses are commonly adapted and modified to meet the changing needs of the families who lived there.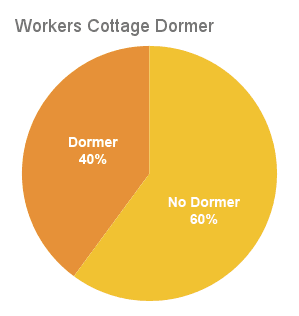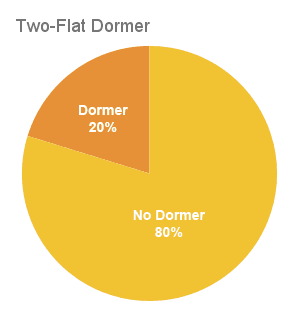 County and city data recording housing construction dates for cottage-style buildings are not always accurate, and may be only a rough estimate rather than a direct record of a building permit. With that caveat, a chart of construction dates of cottage-style buildings in the pilot study area shows a great number built around 1892, a year of great anticipation and real estate investment before the World's Columbian Exposition opened in 1893. The high numbers in 1880 and 1890 may include houses built at any year in those decades. In general, almost all of the cottage-style buildings in this area were built before 1900.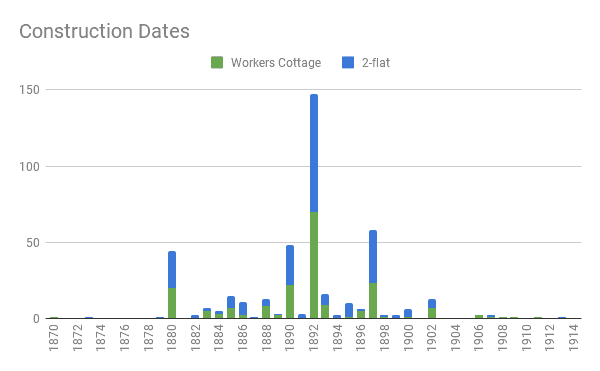 County tax assessments from 2019 for the properties show a median estimated market value of $358,040 for the workers cottages in the survey area. The cottage-style two-flats are slightly higher at $387,750.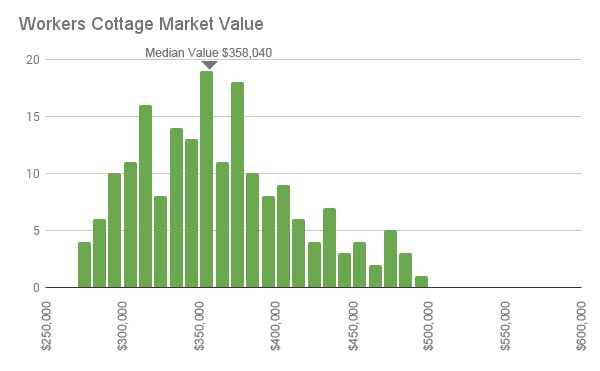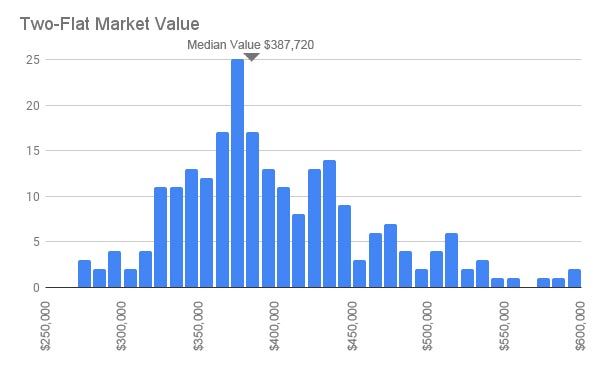 As in the rest of Logan Square, workers cottages have been the majority of teardowns in this area recently. 31 cottages were lost in this small area in the past fifteen years. Without protections against redevelopment, it is likely that a number of the cottages which were surveyed will not survive the next few years.
Historic Cottages and Two-Flats Tour
While examining the houses within the survey area, the surveyors noted a number of well-preserved examples of workers cottages which are worthy of further study and preservation.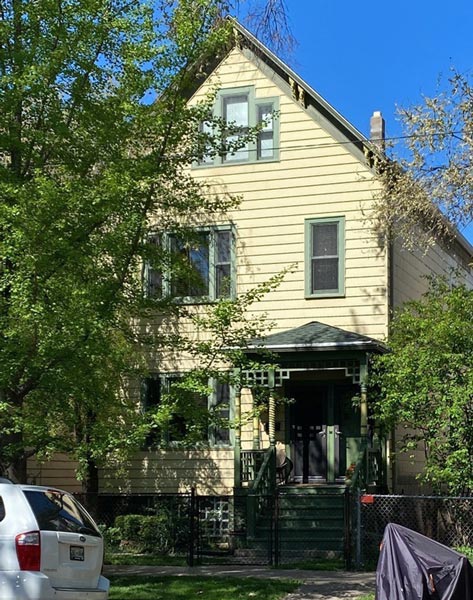 2142 N Campbell: Built 1890. Cottage-style two-flat with intact wood brackets under eaves and turned spindles on gingerbread porch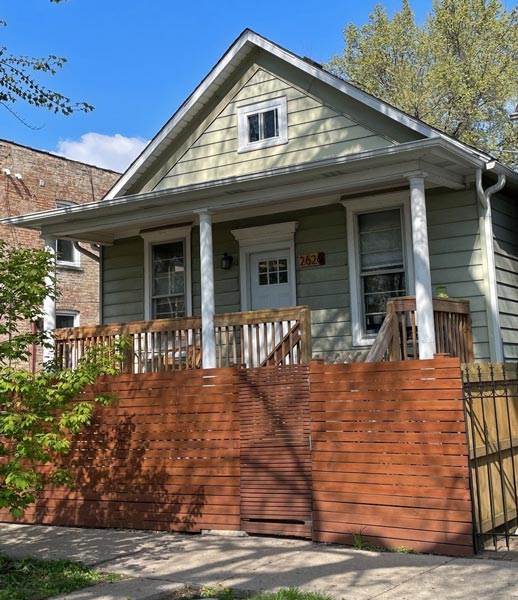 2626 W. Francis: Built 1880. Small cottage with lower-pitched roof and classical porch. One of the older cottages in the survey area.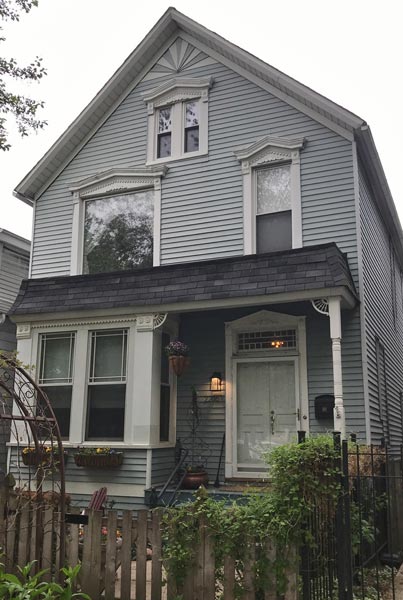 2206 N. Maplewood: Built 1892. Cottage-style two-flat with well-preserved window surrounds, gingerbread details on porch and intact transom window over front door.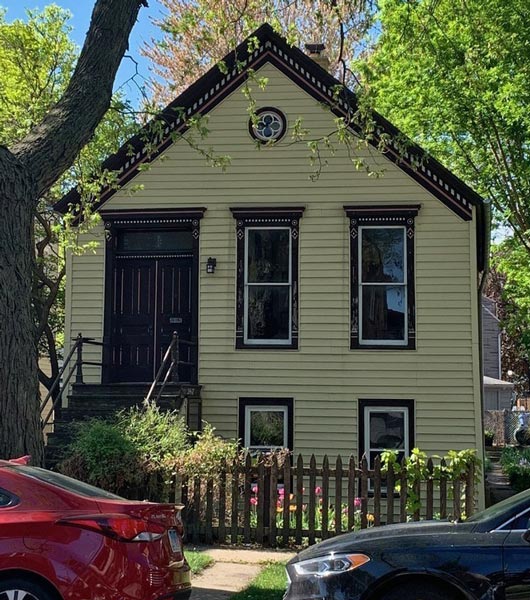 2417 W. Medill: Built 1897. Frame cottage with intact window surrounds and under-eave dentils carefully painted and well cared for. Orange-rated listing on Chicago Historic Resources Survey.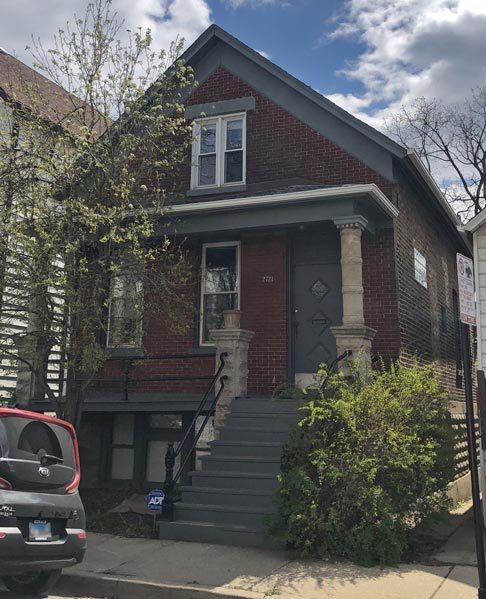 2721 W. Prindiville: Built 1903. Brick workers cottage with ornamented stone lintels and picturesque rustic cast cement porch pillars.