SPRING 2022 — NEWS FROM THE CHICAGO WORKERS COTTAGE INITIATIVE
---
On the Streets in All Weather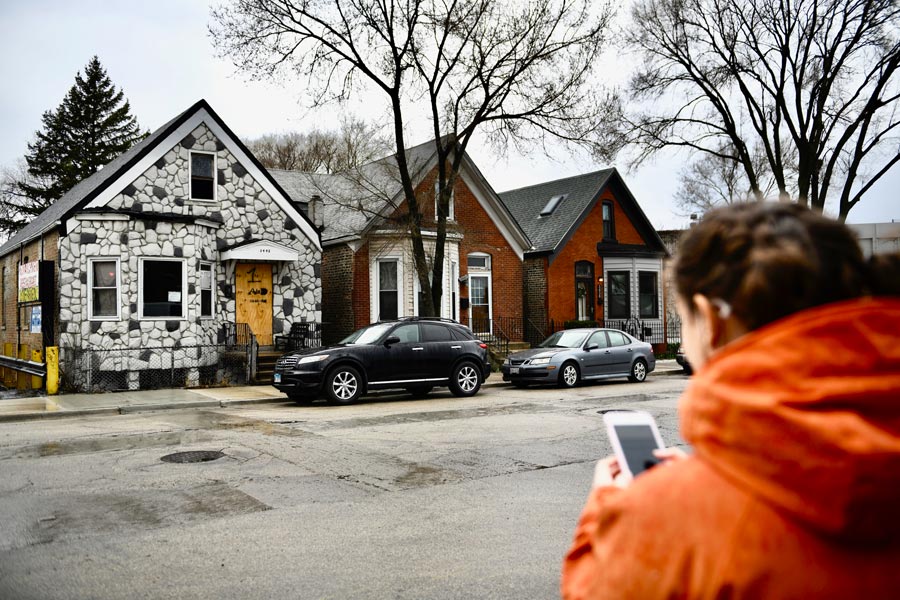 In April, graduate students from the Preservation Planning Studio class at the School of the Art Institute again partnered with the Chicago Workers Cottage Initiative and Preservation Chicago to conduct a field survey of workers cottages, this time in the McKinley Park neighborhood. The survey was similar to a survey in spring 2021 in Logan Square conducted by the same survey methodology course.
Lead by professor Charlie Pipal, the class of twelve divided into teams of two and walked the neighborhood, photographing and noting details of workers cottages and other building types using the parcel-mapping phone app ReGrid. With a larger group of students than last year's class, the group was able to survey over 4000 properties encompassing the entire neighborhood of McKinley Park during their four sessions of field work, despite recurrent bouts of rain.
In late April, a University of Chicago class of eighteen undergraduates from the Historic Preservation Studio Chicago Studies Urbanism Lab conducted a one-day field-survey blitz of workers cottages in the South Chicago neighborhood. Professor Emily Talen's class, the first historic preservation class offered at the University of Chicago, cataloged roughly 800 parcels on 20 residential blocks on a bitterly cold afternoon.
We are grateful for all the legwork these students have done to gather on-the-ground information about Chicago's workers cottages! Data gathered about these sample neighborhoods will provide a more complete picture of the current state of cottages in Chicago and the unique needs for preserving them in different parts of the city. Look for a report with our analysis of the findings of these surveys on our website soon.
---
Workers Cottages Live on TV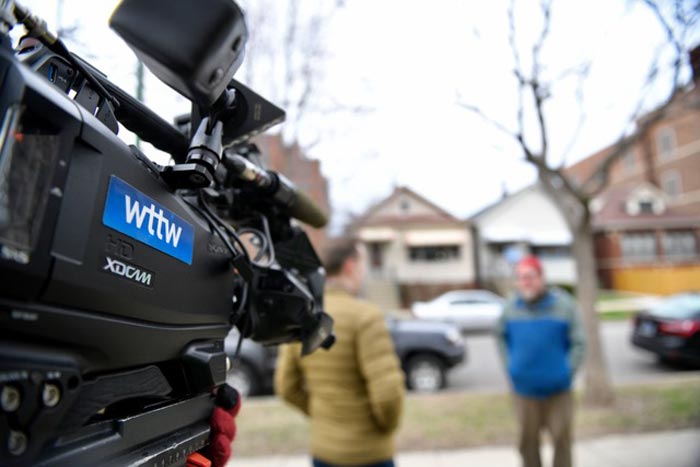 Did you catch the recent story on WTTW's Chicago Tonight about the Chicago Workers Cottage Initiative? Reporter Nick Blumberg followed School of the Art Institute surveyors on the McKinley Park survey and interviewed CWCI co-founder Matt Bergstrom, architectural historian Elizabeth Blasius and history professor Joseph Bigott for a feature about the history of workers cottages and their importance nowadays as affordable housing.
Watch the May 12th Chicago Tonight news story
---
Test Your Cottage Knowledge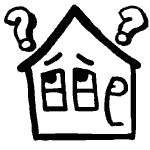 How well do you know Chicago vernacular architecture? What's the difference between a two-flat and a Tudor? Can you identify which part of a house is a dentil or a dormer? Test your architectural acumen with this quiz about what makes Chicago's workers cottages unique:
1. In what time period were workers cottage style homes most commonly built?
1820 - 1830
1870 - 1910
1920 - 1940
1950 - 1970
2. What is the typical footprint of a workers cottage?
Narrow rectangle
Octagonal
Pie-shaped
Square
3. Cottage style homes were most typically built as:
Rooming houses
Second homes away from Lake Michigan
Affordable homes for the working class
Storage for carriages
4. Which style roof was most common for a workers cottage?
Flat with carved wood detail
Peaked with a turret
Simple gable
Chalet style
5. The typical height of a workers cottage was:
1 story without a basement
2 stories with added roof deck
1½ stories with attic
Moderate height ranch
6. How can the taller workers cottages be described?
Two-flats
Raised bungalows
Elevated with decks
Semi-tall 3-stories
7. Apartments added within the cottages are sometimes called:
Recreation rooms
Housekeeper quarters
Gated space for tenants
Mother-in-law or In-law apartment
8. A variation of a cottage roof style in Chicago could be called:
Greek Revival false front
Gambrel roof
Prairie Style horizontal
Romanesque
9. Cottages were often expanded to provide extra living space by:
Digging a sub-basement
Adding a lean-to on the side
Raising the building to add a basement
Adding a front porch
10. What other purpose was the added space used for?
Sun porch
Bomb shelter
Plumbing and utilities
Automobile garage
---
A Little House Among Apartments
The Chicago Workers Cottage Initiative interviewed Jenetta O'Neal at her Grand Boulevard home to find out what she loves about her workers cottage.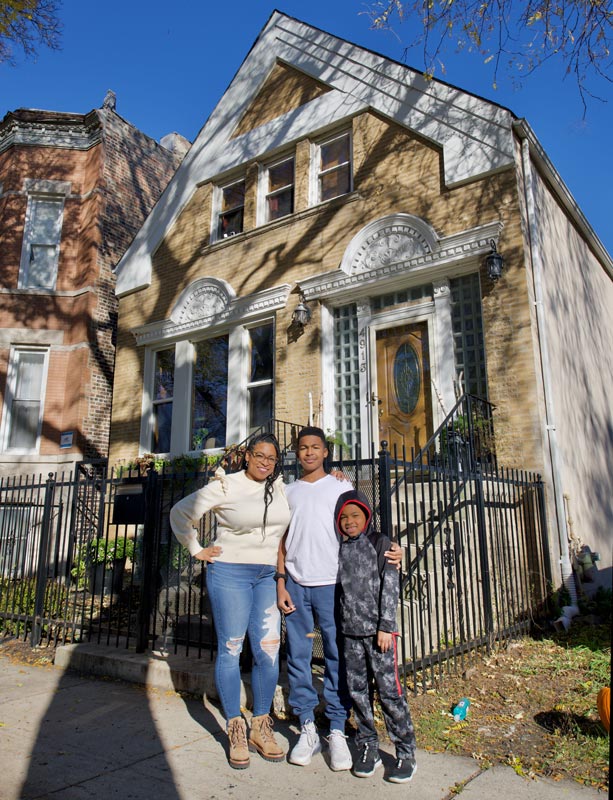 What's your favorite room in your house? Why?
My favorite room is the kitchen, positioned in the rear of the home. The home is west facing so there is a flood of light that I find so welcoming. Perfect for coffee!
What would you change about your house if you could?
As I consider a remodel, I think about how easy space planning would be if I had a staircase that ran along the wall instead of center. Otherwise, I think it's an ideal footprint for smaller families allowing for personal space and communal activities.
Who do you think will be living in your house in 100 years?
Given the homes proximity to downtown, the lakefront, and major highways, I'd love if it could be a family home passed through the generations. If not, I hope that it's a family who treasures the history and architectural uniqueness and doesn't tear and rebuild a 3 flat condo or similar.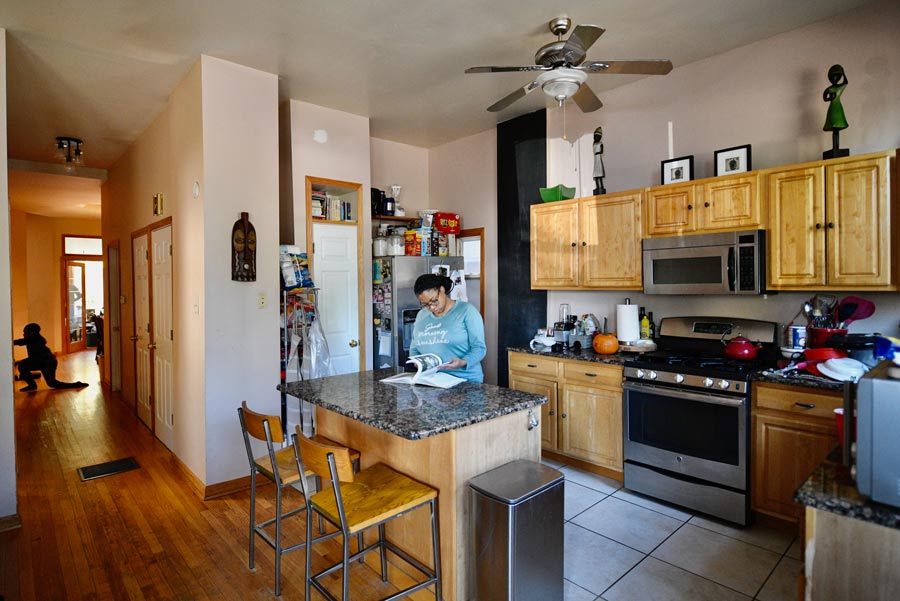 How did you decide to decorate and/or paint your house?
Decor is always a work in progress and reflects my maturity, personality and respect for family. I've acquired pieces from loved ones that I like to give prime real estate. It helps me keep their memory alive. I consider my style modern transitional where I am leaning towards less fussy and ornate. That speaks to my need to simplify my life and all aspects.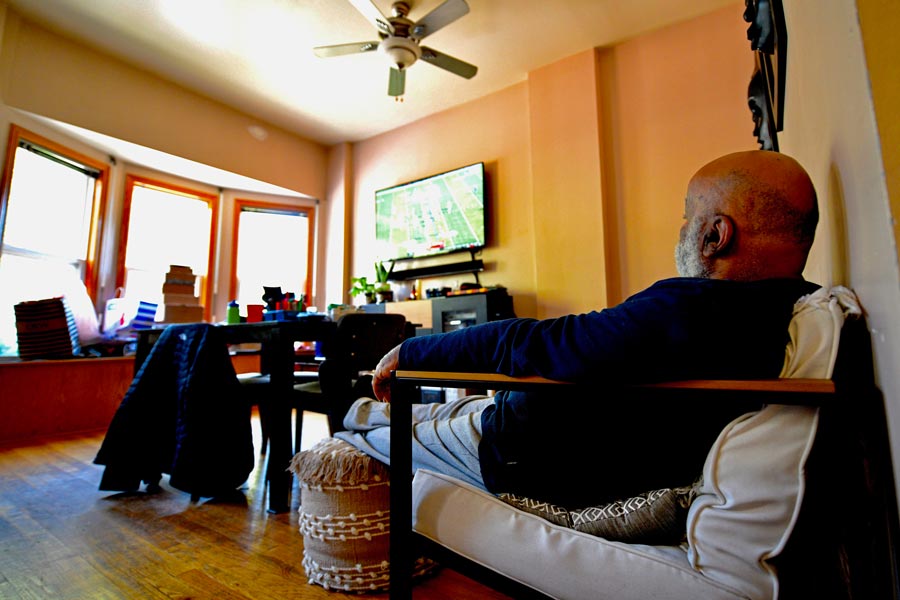 What words would you use to describe your house to someone who hasn't visited?
I describe my home as the surprising single family of the block. I sit amongst multi-units, so I appear smaller. Additionally, once a person enters, they are quite surprised by the 12ft ceilings. It makes the space feel expansive.
Read more about the history of Jenetta's house
---
Workers Cottages in the News
Demolition moratoriums in Pilsen and Logan Square / Humboldt Park declared a success, renewed until 2024
The 2021 Venice Bieniale exhibit American Framing recently opened at Wrightwood 659, showcasing Chicago's balloon-framing invention which streamlined home building and enabled the construction of tens of thousands of affordable workers cottages
---
1000 Cottage Fans Can't Be Wrong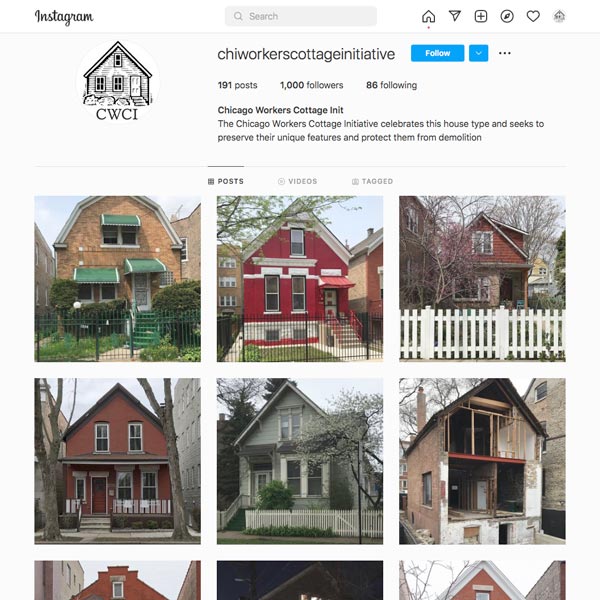 The Chicago Workers Cottage Initiative Instagram account recently surpassed 1000 followers! Add us to your feed to see inspiring and interesting photos starring our favorite streetscape celebrity: the workers cottage!
---
Springtime Farewell
Developers continue to demolish workers cottages at a steady rate. 60-some cottages have been lost in Chicago since the beginning of the year. Some of the demolished houses were in poor shape due to disinvestment, but a majority were in good condition and torn down to make way for redevelopment. Here's a last look at some of the houses which could have been saved if purchased by a preservation-minded buyer.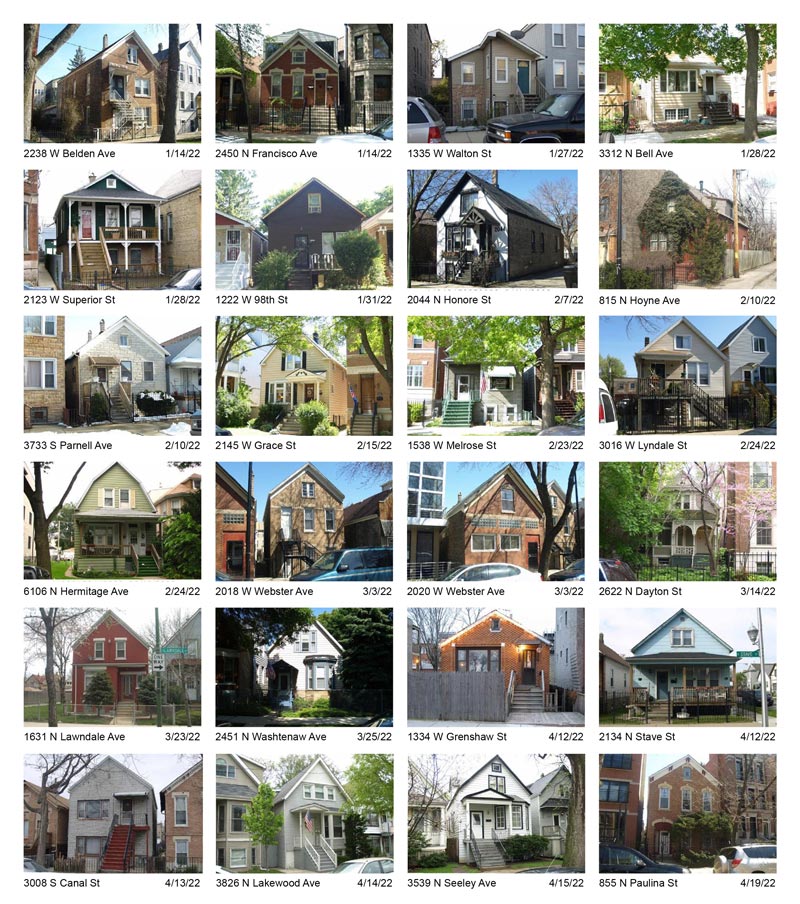 ---
Answers to Cottage Knowledge quiz:
1.c – 2.a – 3.c – 4.c – 5.c – 6.a – 7.d – 8.b – 9.c – 10.c
10 correct = Gabled Grand Master. 8-9 = Cottage Champion. 5-7 = Decent Dormer. 3-4 = Passable Permastone. 1-2 = Regrettable Remodel. 0 = Foundation Failure
---
Copyright © Chicago Workers Cottage Initiative

Follow us on Instagram

Join the Chicago Workers Cottage Initiative mailing list - unsubscribe