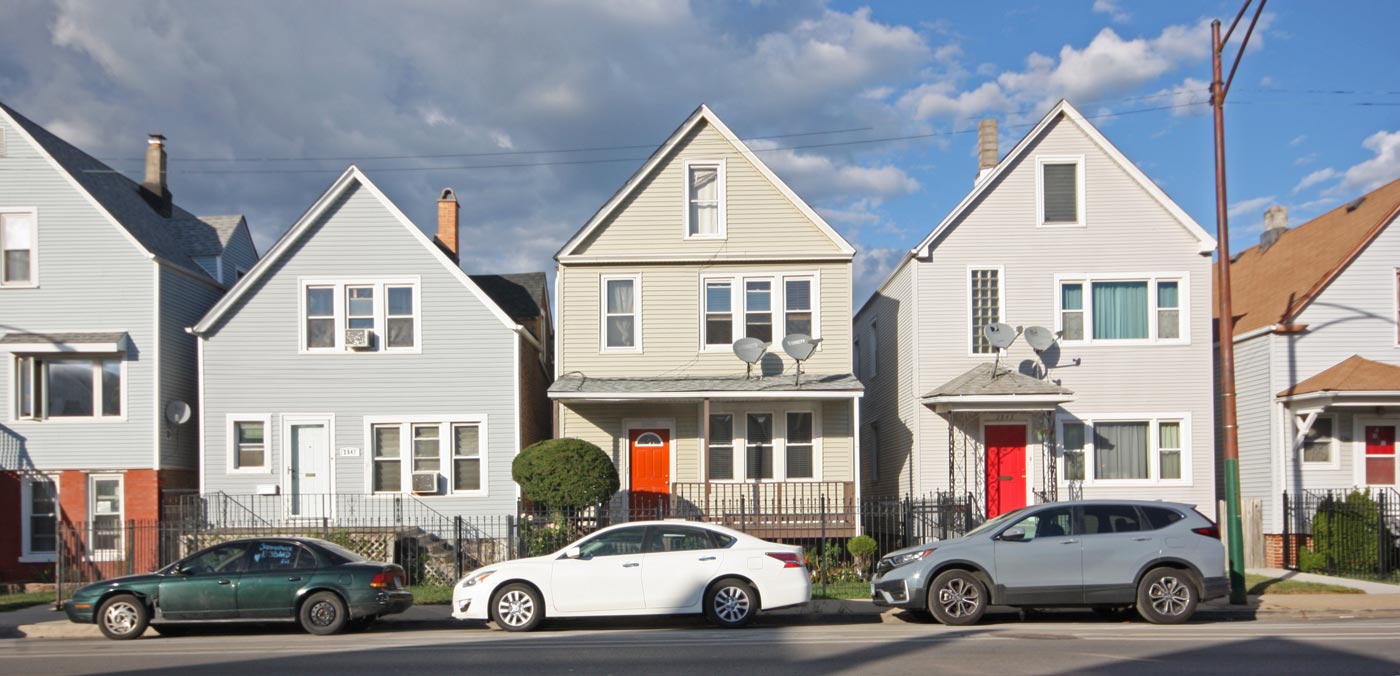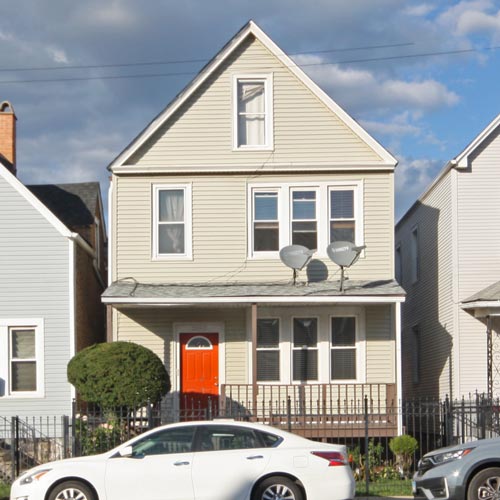 The Chicago Two-Flat
The term "two-flat" describes a Chicago building type with two separate apartments on separate floors. Many Chicagoans associate the term with a particular style of flat-roofed brick building with a front porch and prominent bay window.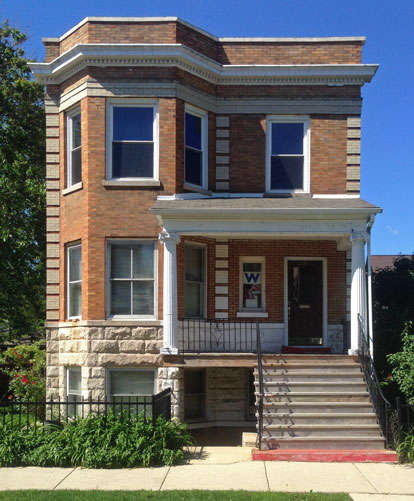 However the terms "two-flat" and "three-flat" can be used to describe any two- or three-unit apartment building in a variety of styles. Buildings with two or three stacked apartments were popular from the 1870s all the way up to the 1960s or later. The term does not necessarily describe a specific style of design or roof type.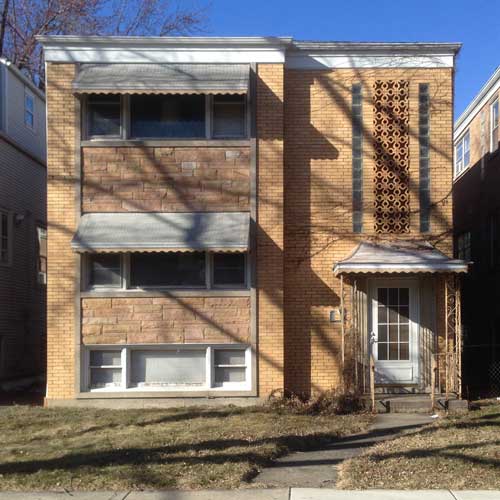 The common Chicago Greystone is also a form of two-flat building.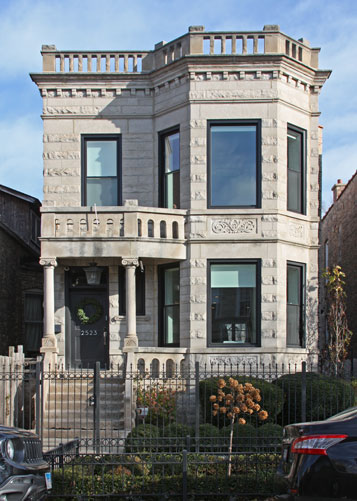 Cottage-Style Two-Flats
In the nineteenth-century, many two-flats were built in a gable-roofed style. The completed building looks similar to a workers cottage with an extra floor or two in the middle. Indeed that is how the building was built: the compact floor layout of a typical workers cottage was simply duplicated for the floor above and a staircase added to the upper floors. From the outside, it is often easy to identify the duplicate floor layout by the repeated positions of windows on each floor visible on the front and sides of the building.
Building regulations put in place after the 1871 Chicago Fire required builders to use brick and stone within an area roughly similar to the city limits. Some of these buildings in denser neighborhoods may feature another set of stacked apartments in the back of the building accessed from a rear staircase.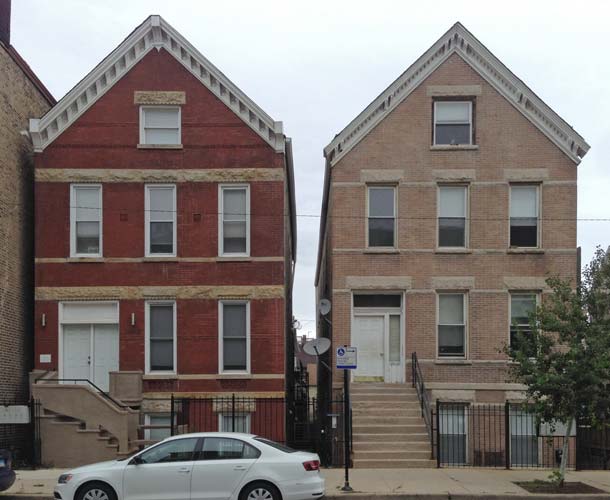 The higher costs of masonry construction drove many working class homeowners to build cheaper wood housing outside the city fire limits. During Chicago's 1870s-80s population and real estate boom, thousands of similar wood-frame two-flats were built in new subdivisions just outside the city limits. Chicago annexed many of these areas in the 1890s, providing access to city water, sewer and fire protection services.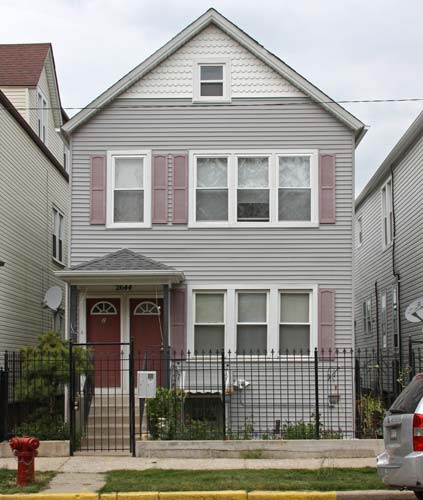 Like single-family workers cottages, these two-flats were built to be affordable to buyers. For working class families and recent immigrants, owning a two-flat provided a place to live with the extra benefit of rental income or a living space to shelter extended family.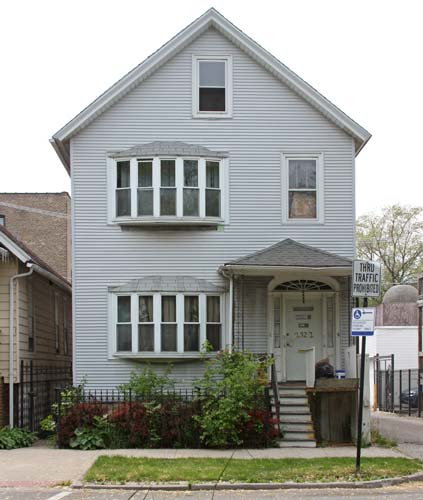 Cottage-style two-flats are often built on the same streets as workers cottages and may be of only slightly larger size and proportion, as seen in the photo at the top of the page. Both house types share the same footprint to fit the same size lots, but their height varies considerably. Simply for the purposes of differentiating these closely-related building types, if a building has two or more equal-sized floors (not the smaller floor under the gable roof), we consider it a cottage-style two-flat.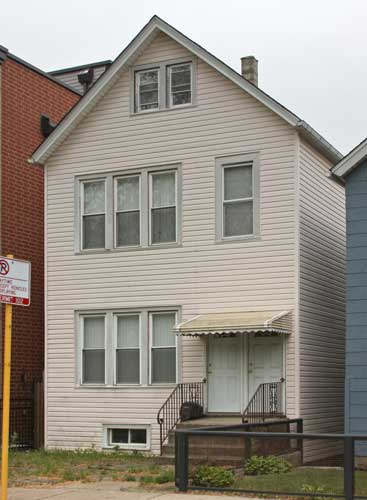 Both nineteenth-century gable-roofed two-flats and twentieth-century flat-roofed two-flats are essential elements of affordable housing in Chicago, just as they were when they were built. As noted in recent media stories, the Institute for Housing Studies at DePaul University has been tracking the loss of two- to four-unit buildings across the city. In neighborhoods undergoing disinvestment, many have been demolished without replacement. In gentrifying neighborhoods they are being converted to single-family homes by joining the two apartment floors. Our own analysis of teardowns in Logan Square shows that while flat-roofed brick two-flats are often renovated and converted to single-family homes, the frame gable-roofed two-flats are simply torn down. Of 417 buildings lost to demolition in Logan Square in recent years, 30% were cottage-style wood-frame two- or three-flats.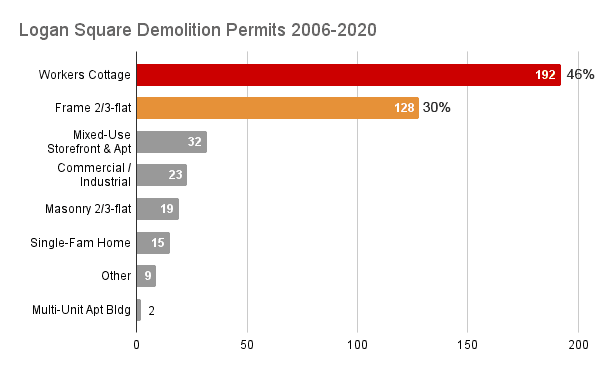 Though many cottage-style two- and three-flats are covered in vinyl siding and may not look as charming as the smaller workers cottages, preserving them is an important part of preserving affordable housing in the city. Losing these buildings to demolition is a loss to Chicago's history.
Have you identified an exceptional workers cottage in your neighborhood? Stumped by an unusual building? Please share with the Chicago Workers Cottage Initiative at contact@workerscottage.org!