SUMMER 2023 — NEWS FROM THE CHICAGO WORKERS COTTAGE INITIATIVE
---
A Garden in the City
A workers cottage can be a perfectly-sized dwelling for a dense urban environment. Often overlooked are the small outdoor spaces hidden behind them. A backyard small enough to mow in minutes but large enough for a tomato garden, a swing set for the kids, a few lounge chairs, or even…a party!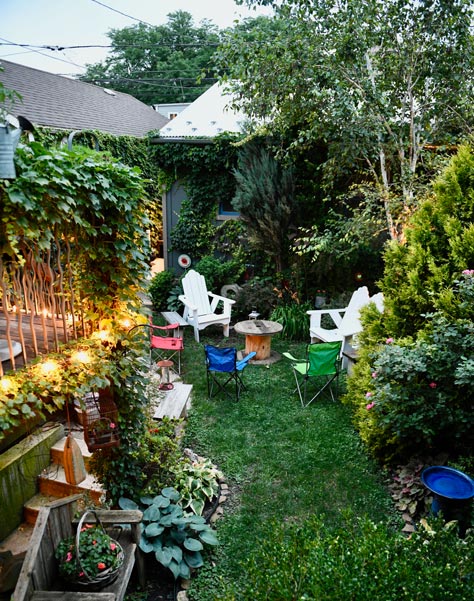 New McMansions squeezed into city lots smother every square inch of earth in concrete and brick. A few potted plants on a rooftop deck are the only tokens of greenery which remain. In contrast, the restrained footprint of the workers cottage affords nature a bit more room to work its wonder in a little Eden.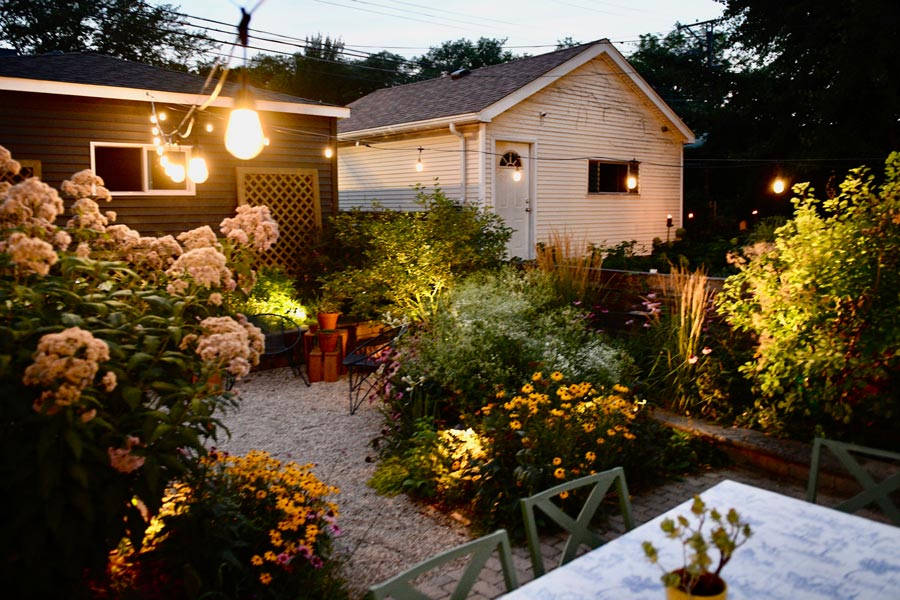 Having neighbors is part of the human experience. By design, city living requires that we coexist with people, especially those living just a few feet away. But it's also refreshing to have a respite from even the nicest neighbors next door. It's amazing how much privacy a simple backyard fence can provide, not to mention double as an outdoor display for lush vines and found art.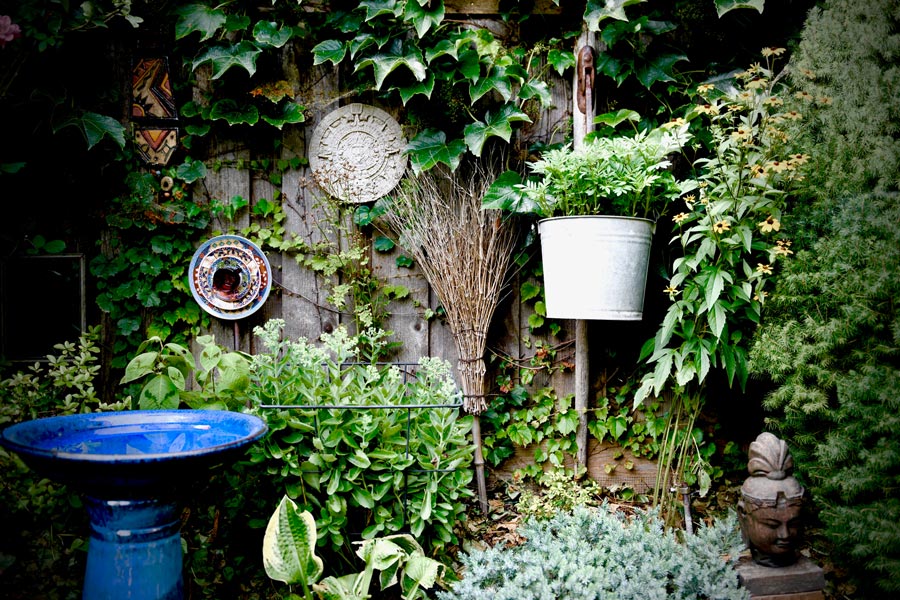 These photos show how just a few cottage owners have appointed their backyards. Photos by Tom Vlodek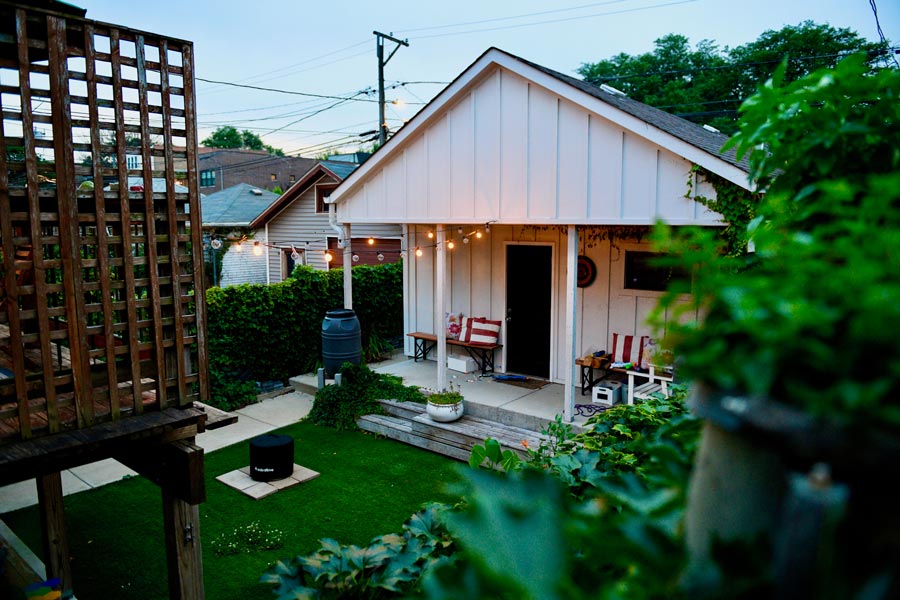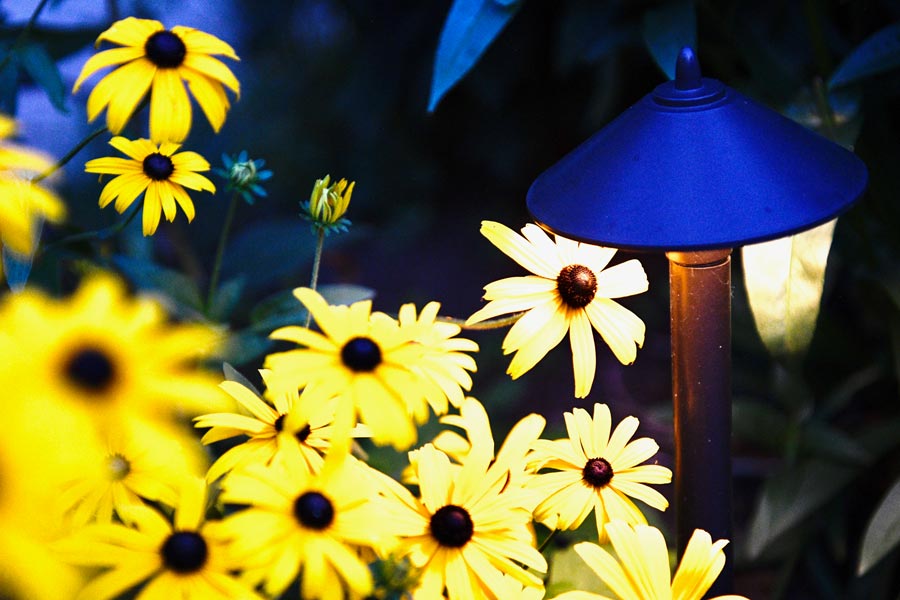 ---
Get Your Cottage Working
by Lauren Hundman
Utilizing Cottage Dormers and Roof Lines
In a small workers cottage, making every inch of space usable is important. This holds true especially on the home's top floor with its angled ceilings under the gable roof line and dormers.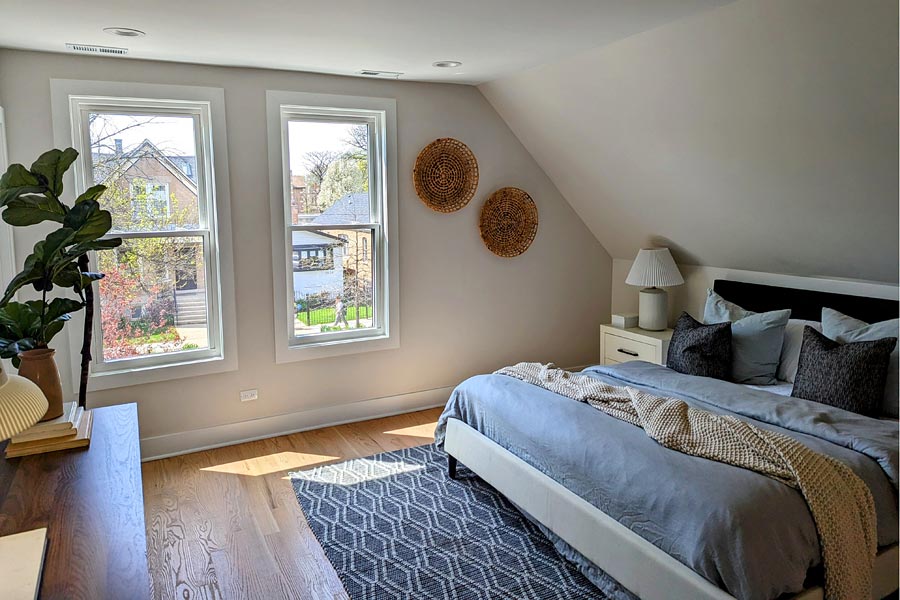 A dormer is a small structure, usually with at least one window, that projects out from a sloped roof. If you buy a workers cottage with a one, you automatically gain extra usable square footage on the top floor! If you own a cottage without a dormer, it is possible to add one (or two) during a renovation project. Construction will require plans and a permit from the city. The structure has to be framed out, and brick or siding added, as well as the roof and any windows. The inside will need insulation, drywall, trim, plus any added electrical or plumbing elements. Adding a small dormer will likely cost a minimum of $50k. Keep in mind that depending on lot lines and clearance from neighboring buildings the addition may not be possible on both sides of a home. Talk with your architect to verify what is possible for your house.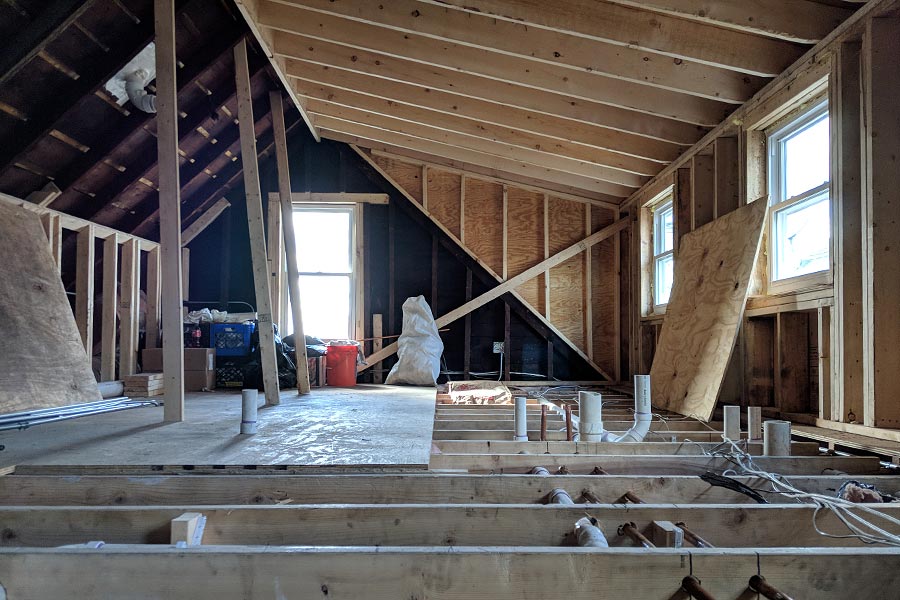 If your home already has a dormer, take advantage of the extra space! Having this space can make the difference between two bedrooms or three on the top floor. This can also be a great place for adding a bathroom. Adding windows in dormered areas is an easy way to gain natural light, and is less expensive than adding skylights. Smaller dormers are a fun spot to add a drop-down light fixture as a design element as well.
For homes without dormers, it is even more important to strategize the use of ceiling heights on the top floor. My rule of thumb is that any space 6' or taller should be utilized as a space where standing is necessary. Any areas under the roof line that are under 6' can be used for areas where standing isn't necessary. In my projects, I like to use shorter ceiling heights for storage closets. I also frequently use areas under the angled roof for a sit-down make-up/vanity area in a bathroom. Shower benches also work well in a lower ceiling height area. It is also common to put the back of a bed frame against the lower part of the angled roof, since you typically don't need to stand on a bed, only sit or lay down. I never waste the lower ceiling area behind the bed and will build in storage with sliding doors tucked behind the bed as well.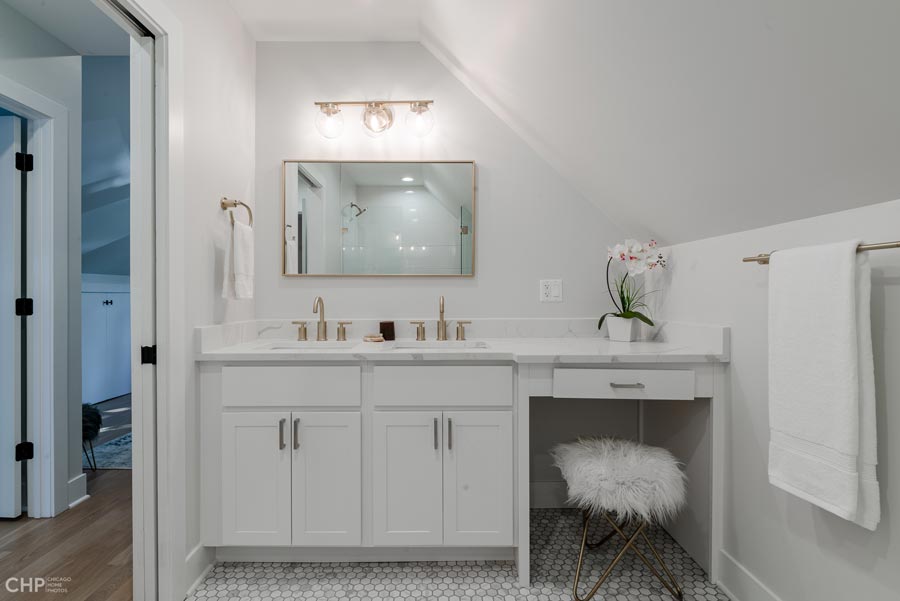 One tool for adding a bit of height to an area with a sloped ceiling is to add a skylight. Since a skylight protrudes out of the roof line, it actually adds a few inches of ceiling height to the space. I have used this technique in a tight bathroom space where I need a bit more height for standing in front of a sink, or in front of a toilet.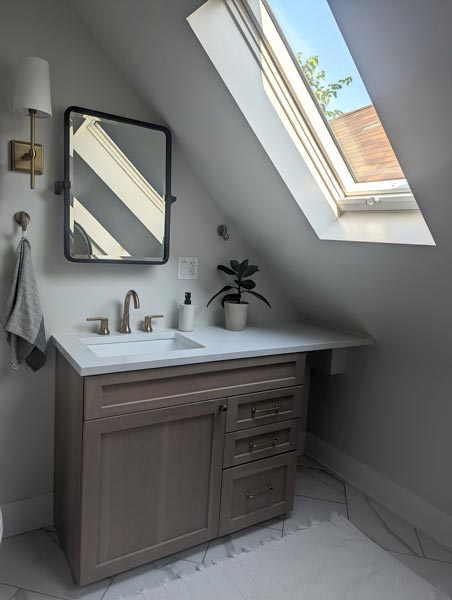 Angled roof lines and dormers add charm and architectural interest to a cottage home. They just require a little extra strategy and creativity to fully utilize them.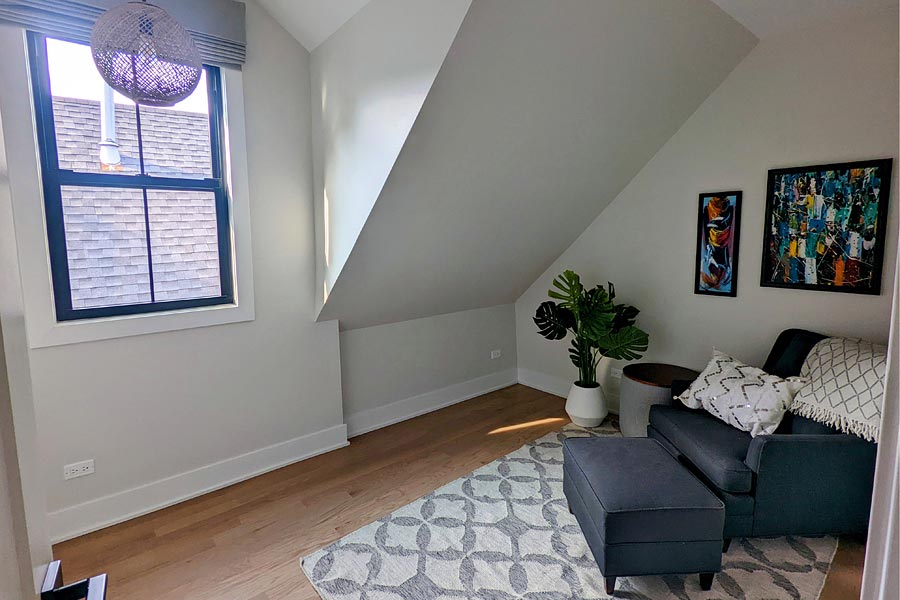 To learn more practical tips on remodeling or renovating your workers cottage, see Lauren's website www.laurenovation.com.
---
At The Market
Several weekends ago, the Chicago Workers Cottage Initiative presented a booth at the Logan Square farmers market. The weather was warmly sunny on July 9 and we felt especially fortunate compared to the all-day rain of the previous Sunday.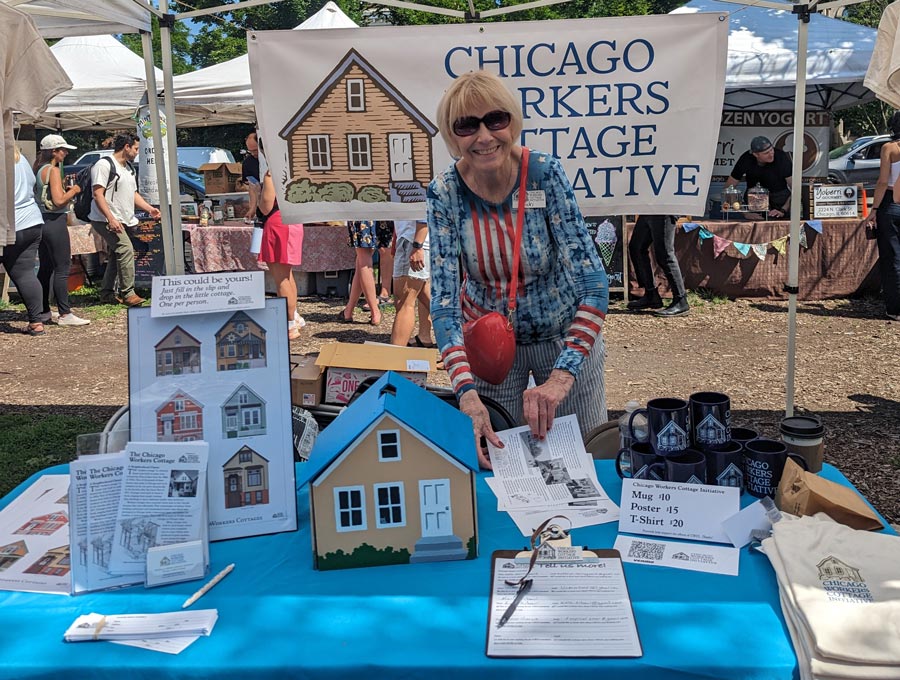 The day passed pleasantly chatting with passersby about what makes workers cottages unique. Many were excited to tell us about their own homes. Some were not familiar with the name for these houses and were curious to learn more. Others were looking for advice on home-improvement projects for their own cottages.
The event was a debut for several new CWCI-themed gifts, including t-shirts, coffee mugs and posters. Sales of these items go to support the Chicago Workers Cottage Initiative as a newly registered Illinois nonprofit. Beyond the sales at the farmers market and future in-person events, these items will also be available on our website, as detailed below. The miniature cottage on our table at the farmers market doubled as a raffle ballot box. Congratulations to Emily Johnson who was the lucky winner of a framed Logan Square Workers Cottages poster in the raffle!
We were glad to hear the enthusiasm for workers cottages and amplify the message that these houses are worthy of preservation in the Logan Square neighborhood, which has lead the city in cottage teardowns for several years. Preserving smaller existing houses, especially in gentrifying neighborhoods, can be important to keep housing in these areas affordable for the future. We hope to bring our message to farmers markets in other neighborhoods soon. Thanks to everyone who stopped by to chat and learn more about workers cottages.
---
Chicago Workers Cottage Souvenirs
Now you can help support the Chicago Workers Cottage Initiative by purchasing a mug or poster featuring Chicago workers cottages. Our 11-ounce coffee mug features the CWCI logo on a deep blue background and is available for $10.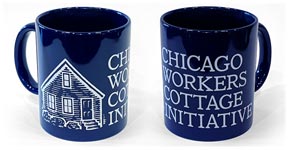 Our new 12"x18" poster created by Matt Bergstrom of Wurlington Press features illustrations of a few of our favorite cottages in Logan Square. Look for posters highlighting houses in other neighborhoods in the future. The poster is available for $15.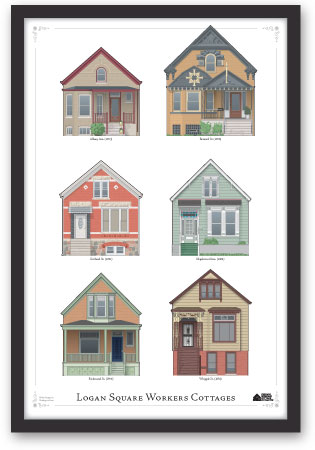 Order your workers cottage gifts from our website. Proceeds from sales of these souvenirs go to support the Chicago Workers Cottage Initiative in its mission to preserve workers cottages all across the city.
---
Copyright © Chicago Workers Cottage Initiative

Follow us on Instagram

Join the Chicago Workers Cottage Initiative mailing list - unsubscribe