SPRING 2023 — NEWS FROM THE CHICAGO WORKERS COTTAGE INITIATIVE
---
Building Our Organization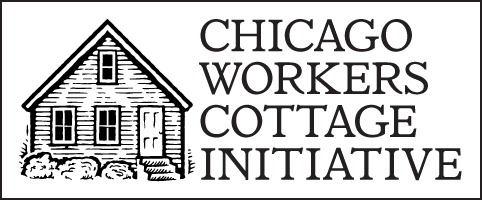 The Chicago Workers Cottage Initiative is excited to announce that we are finalizing our official status as a 501(c)3 nonprofit organization! With this new step for our organization, we will be able to expand our efforts to preserve workers cottages housing across all of Chicago with the support of tax-deductible donations.
The new Board of Directors for the organization will be: Tom Vlodek, Matt Bergstrom, Mary Lu Seidel, Lauren Hundman, Vicki Logan, Jack Rocha, Diana Rodriguez and Erica Ruggiero.
---
Loss of a Historic Cottage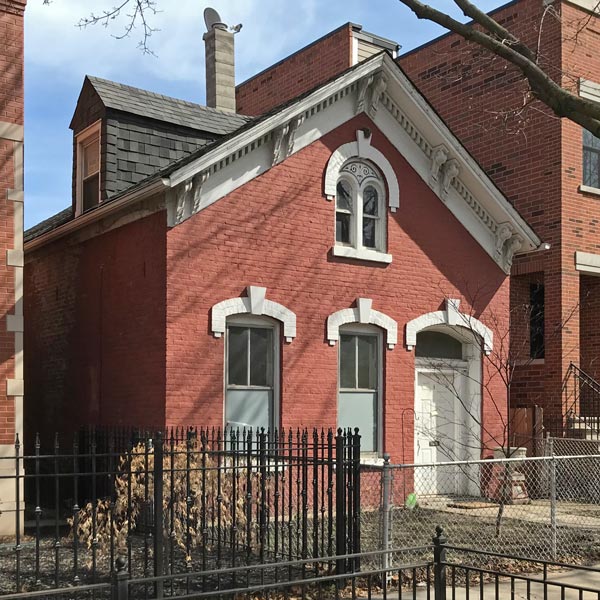 On March 16, 2023 a demolition permit was issued for a 1-1/2 story brick cottage at 1621 N. Bell Ave in Wicker Park. The cottage was built in 1878 and was first home to carpenter William S. Brown, who may have been its builder. Surviving 140-year old woodwork on the exterior included dentils and brackets under the eave as well as a floral ornament above the double-arched upper floor window.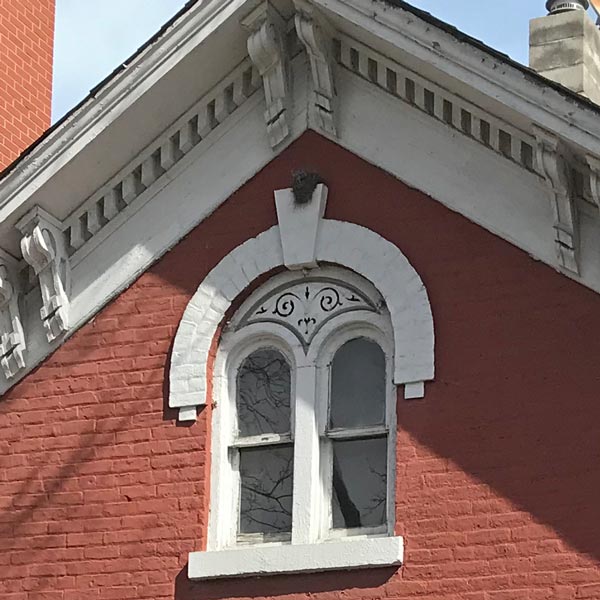 The house is one of several workers cottages on the nearby blocks listed in the Chicago Historic Resources Survey. When the survey was created in the 1980s, observers rated the cottage at 1621 as orange, meaning it was considered to be historically significant for the neighborhood. Because of this orange rating, when a developer first applied for a demolition permit in December 2022 the property was put on a 90-day waiting period. The demolition permit was only issued after these 90 days had expired.
As Elizabeth Blasius explains in a recent MAS Context article, Chicago's demolition delay is a make-do amendment created by the Department of Planning and Development after the hasty disposal of the historic Old Mercantile Exchange for a parking lot in 2002 sparked outrage and protests by Preservation Chicago, architecture critics and others. Affecting only the top listings from the Chicago Historic Resources Survey — a planning document which was not intended to be an arbiter of must-save buildings — the Demolition Delay Ordinance created a buffer of time for the community to react to a building owner's demolition plans. In theory, if there is a groundswell of support for saving a building by neighborhood groups, aldermen and influencers, the owner might be discouraged from demolition or encouraged to sell the property to a preservation-minded buyer. Another option is to disqualify the building from demolition by designating it as a city landmark. The process for landmarking must start within 90 days.
While there have been some successful landmarks saved from the demolition delay, such as the La Lucé restaurant/Schlitz tied house landmarked in 2021, over the past twenty years only a small number of orange- or red-rated demolitions have been similarly preserved. To be considered by the Commission on Chicago Landmarks, a building must meet at least two of seven criteria for its connection to significant city history, events, residents or architects, or represent distinctive or unique architecture. A handful of cottages are landmarked in Chicago, such as the Claremont Cottages, Schnitzius Cottage and others, but most individual workers cottages and other ordinary vernacular houses in the city do not meet more than one of the landmarking criteria, no matter their charm and well-preserved woodwork.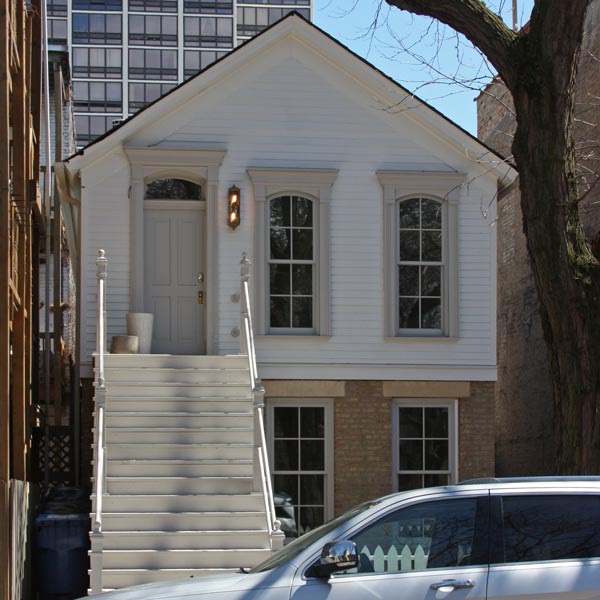 In 2016 the Commission on Chicago Landmarks denied a demolition permit for the orange-rated workers cottage at 1639 N. North Park Ave before it reached the demolition delay. City attorneys and Preservation Chicago prevailed over the owner's demolition plans by arguing that the simple cottage was a valuable contributing building to the Old Town Triangle Historic District, one of Chicago's first landmark districts designated in 1977. The cottage at 1621 N. Bell was located just across the alley from the boundary of the Wicker Park Landmark District. If the boundaries had been drawn slightly larger when the district was created in 1991, would this have helped prevent the building's demise? Landmark districts which include historic workers cottages may have more impact for preserving cottages from demolition than any last-minute efforts to save individual houses.
Recent high-profile losses of historic houses in several North Side neighborhoods show just how ineffective the current Demolition Delay Ordinance is at preventing unnecessary destruction of houses that have been identified as important and worthy of preservation. The Chicago Historic Resources Survey is nearly forty years old now and needs to be updated. Its list missed historic houses in many neighborhoods, especially small houses like workers cottages. Adding houses recognized in National Register Historic Districts to the same protections as city-designated landmarks would be one improvement to the ordinance. Another simple fix would be to increase the holding period to 180 days to allow exploring more options for preservation. Demolition fees would change economic incentives toward reusing rather than replacing historic buildings. If Chicago is to live up to its fame as a city of architecture, it must do better to preserve its architectural heritage, including its vernacular housing.
---
Heating and Cooling a 21st-Century Cottage
How do you heat and cool a 125+ year old, pristine workers cottage that has no ductwork? Easy. Install an HVAC system known as a "mini-split". That's exactly what a Logan Square family did to bring their cottage into the 21st Century. They made the upgrade in order to augment the existing radiant hot-water heat and eliminate a myriad of noisy window air-conditioners.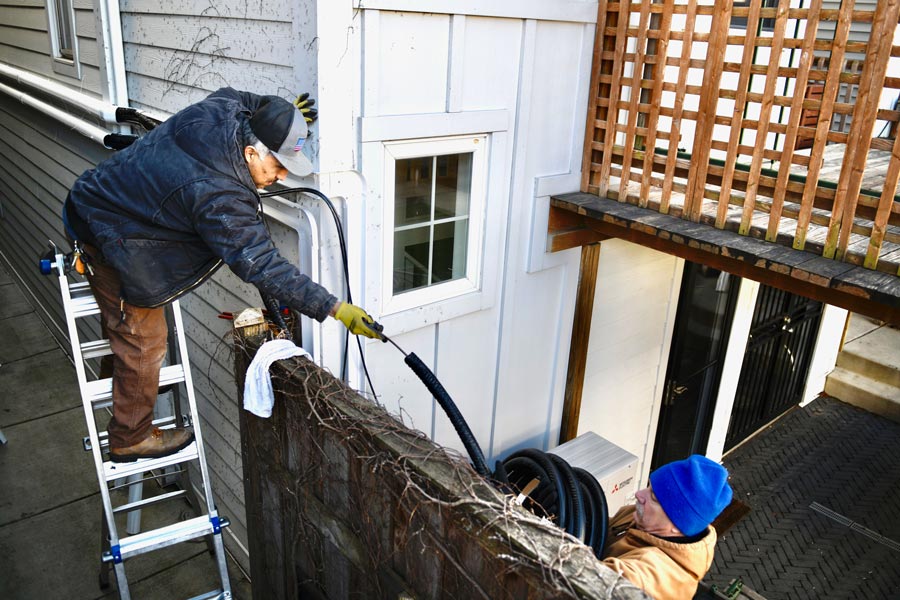 According to Tom Emanuel, co-owner of Emanuel Brothers Heating & AC, the company that recently installed the system, a mini-split is "essentially a ductless heat pump that lets you control temperatures in each room. In summer, heat is extracted from the air inside the house then delivered outside. In winter, the system is reversed. They are becoming very popular among homeowners and account for about 15% of our business and growing".
Specifically, ComEd's website describes the process as a system that "uses a compressor pump to circulate refrigerant liquids between two heat exchanger coils (one outside, one inside). The indoor unit(s) is located directly in the living space of your home. By eliminating the need for ductwork to/from vents, system efficiency increases because heated or cooled air isn't lost through duct leaks."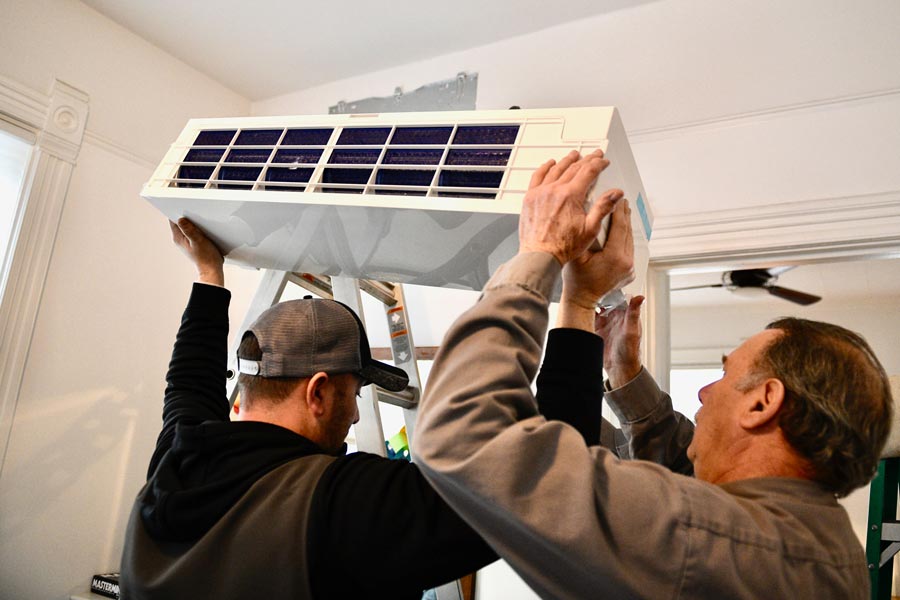 Energy.gov claims that "the cost of installing mini-splits can be higher than some systems, although lower operating costs and rebates or other financial incentives can help offset the initial expense". Heat pumps run on electricity rather than fossil fuels and most systems qualify for an ENERGY STAR® rating. Starting this year, homeowners can be eligible for a tax credit of 30% of costs up to $2,000, under the 2022 Inflation Reduction Act.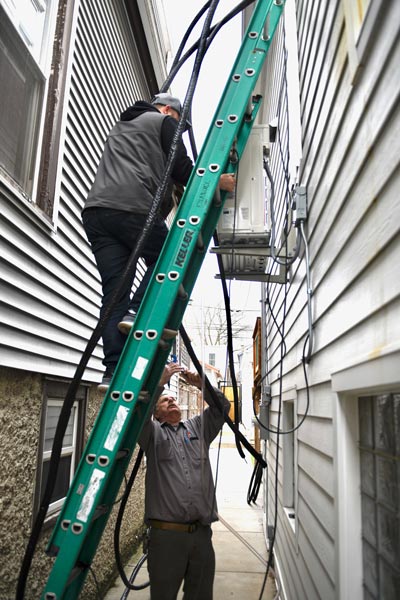 Asked if he would consider a mini-split system in his own home, Emanuel said "Absolutely I would. They can be expensive but the return on investment is high and the advantages include being super quiet and energy efficient".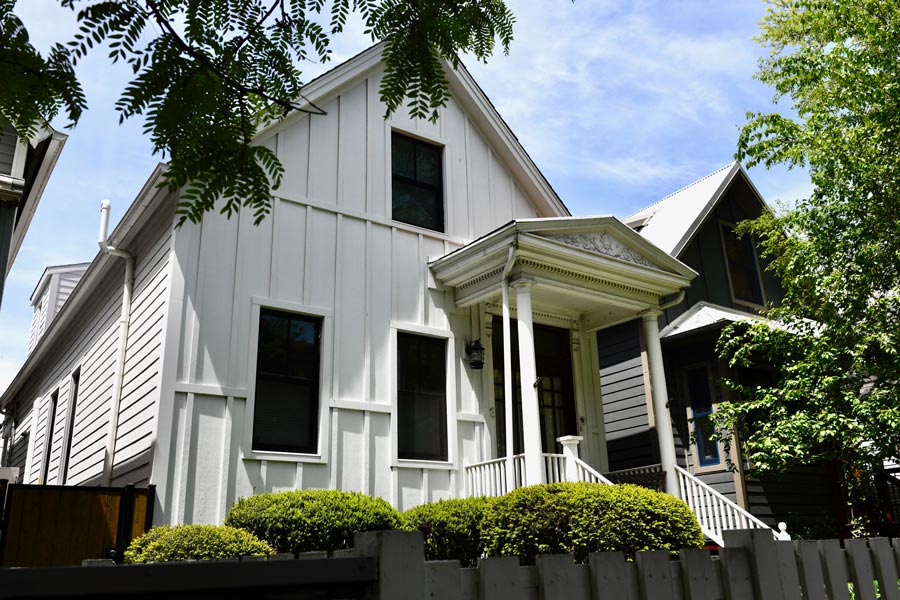 ---
Cottages in Back of the Yards
On several recent days in April and May, CWCI team members Mary Lu Seidel and Jack Rocha teamed up with interns Karlie Sanchez and Haley Ventura from the Great Cities Institute at UIC to survey workers cottages and related two-flats in Chicago's Back of the Yards neighborhood.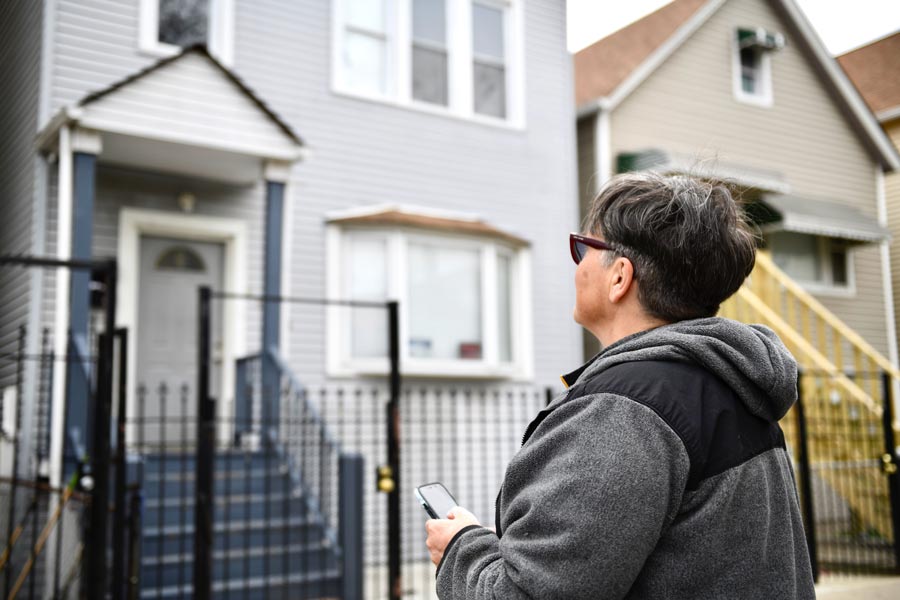 As in our previous neighborhood surveys, the surveyors walked block to block taking note of each property using the Regrid mobile app. Along with a photo record of each building, the surveyors noted the condition of the structure, size and building materials, as well as any cottages hidden on the alley behind other houses.
The detailed data gathered in these neighborhood surveys will help us understand the character and current state of workers cottage-style housing across the city. The surveyors hope to complete their observations of a sample area containing about 1,300 properties in the north end of the Back of the Yards neighborhood over the next few weeks. Look for a full report of their findings on our website later this summer.
---
Walking Tour Returns
The Chicago Workers Cottage Initiative's popular Logan Square workers cottage walking tour will return for two weekends in June 2023. The hour-long tour lead by Matt Bergstrom showcases cottages on an 8-block loop of Logan Square and Avondale with the story of the development of the neighborhood and some of its long-ago cottage residents.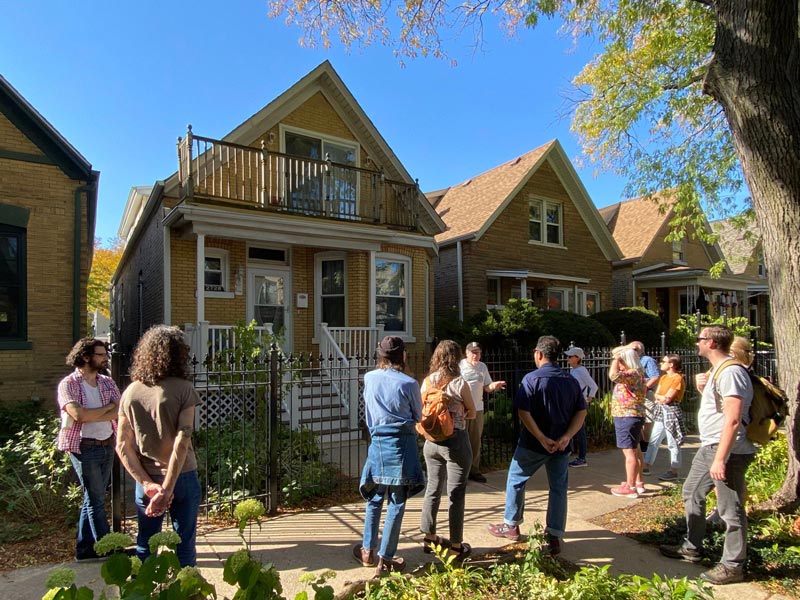 Tickets to tours at 2pm on Saturday, June 3 and Sunday, June 11 are available for a pay-what-you-wish donation to the CWCI to help us further our efforts to preserve Chicago's workers cottages. Last year's three weekend tours sold out quickly, so reserve your place on the tour soon!
---
Save the Date
The Chicago Workers Cottage Initiative will have a table at the Logan Square Farmers Market on Sunday, July 9. The market is open from 9am to 3pm on Logan Boulevard near Milwaukee Ave. Stop by to chat about what you love about workers cottages!
---
Springtime Farewell
Chicago has lost nearly 100 workers cottages and cottage-style 2-flats since the beginning of the year to redevelopment and disinvestment. About half of these were neglected houses seized by the city after missed taxes, while half were houses torn down to make way for more expensive development. Here's a last look at some of the houses which could likely have been saved from demolition in the hands of a preservation-minded owner.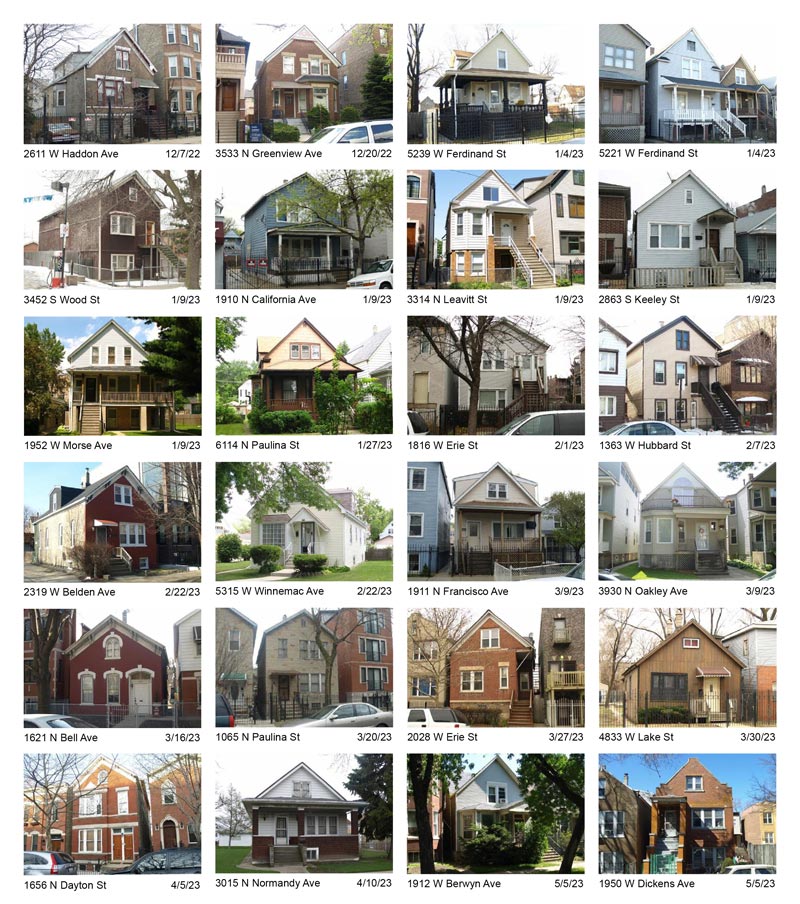 Images from Cook County Assessors Office via Chicago Cityscape
---
Copyright © Chicago Workers Cottage Initiative

Follow us on Instagram

Join the Chicago Workers Cottage Initiative mailing list - unsubscribe