WINTER 2023 — NEWS FROM THE CHICAGO WORKERS COTTAGE INITIATIVE
---
Here to Stay in a Workers Cottage
The Here To Stay Community Land Trust recently held a press conference to announce that the organization had been awarded $5 million in state funding. Here To Stay was founded by local community organizations Palenque LSNA, Center for Changing Lives, LUCHA and Spanish Coalition for Housing in 2018 to preserve affordable housing for moderate-income residents in the Logan Square and Hermosa neighborhoods. Redevelopment and increased housing costs have displaced thousands of former residents from these areas over the past two decades.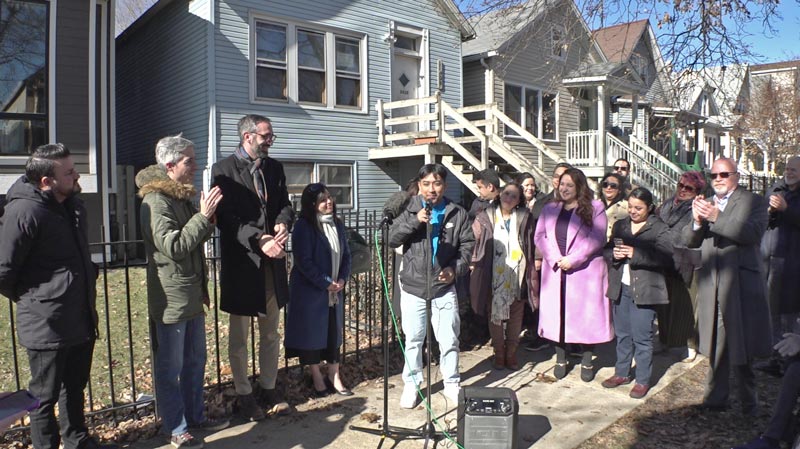 The February 13 press conference was held in front of the second property acquired by Here To Stay, at 2430 N. Artesian Ave in Logan Square. A 30-year resident donated the property to the land trust to preserve the house and keep it affordable in the future. The house is a woodframe workers cottage in a row of similar cottages which line both sides of Artesian Avenue and were built in the late 1880s.
On the same block are several properties which illustrate the need for affordable housing. The workers cottage across the street at 2439 N. Artesian was demolished in late 2021 and replaced by a larger modern single-family home. Another cottage at 2417 and seven woodframe two-flats on the south end of the block have been torn down since 2014.
The large single-family homes which replaced these houses generally sell for over $1 million, double or triple the sales price of a typical workers cottage or two-flat in this area. An analysis of teardowns by the Chicago Workers Cottage Initiative shows that this dramatic escalation of home prices caused by teardowns is a pattern across Logan Square.
In a phone conversation, Here To Stay program director Kristin Horne explained how the land trust works. The nonprofit land trust rehabs properties to sell at below-market rates to qualified buyers with the help of a Chicago Housing Trust subsidy. By a unique arrangement, the trust sells the house but leases ownership of the land. Homebuyers agree to keep the future sales price of the home at an affordable rate to continue to benefit the community long-term.
Here To Stay is currently the only land trust operating in Chicago, though there are others in development in several neighborhoods. The specifics of how each of these trusts work can be adjusted to fit the housing needs of each neighborhood. Here To Stay hopes to be a model for other ways of making housing more affordable across the city.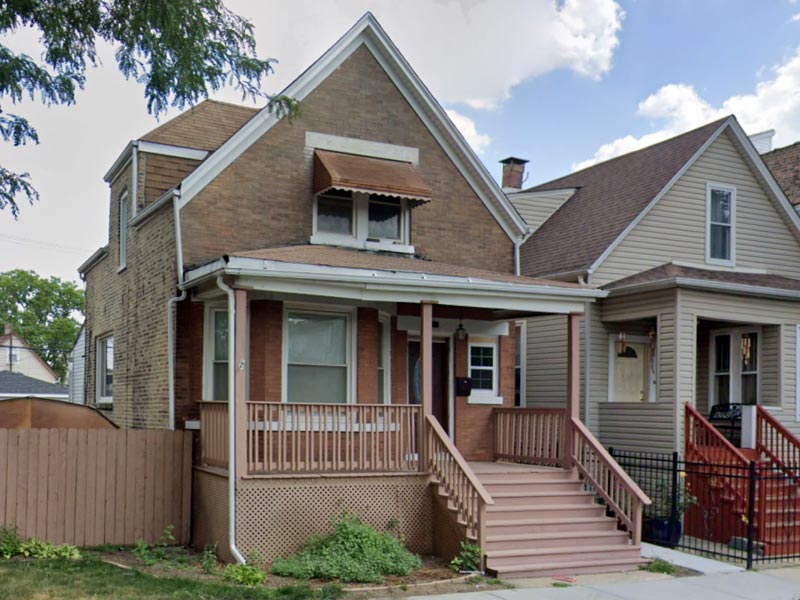 The funding formula which allows Here To Stay to sell properties at below-market rates currently favors single-family homes rather than multi-unit buildings. While the first house sold by the trust in 2022 was a ranch-style home, the second and third houses in the program are workers cottages. Because cottages are common in Logan Square and Hermosa, it is likely that Here To Stay will have a great impact on preserving workers cottages in this area. The new funding will allow the land trust to expand its program, possibly to as many as 10 to 15 houses per year over the next decade.
While preserving affordability in housing is a complex challenge in Chicago, the land trust is a solution which also benefits neighborhood stability and historic preservation. If you are selling a workers cottage you might consider selling to a land trust to allow your home to benefit the entire community.
Block Club coverage of the February 13 press conference
---
Get Your Cottage Working
by Lauren Hundman
Making a worker's cottage basement a functional living space
Does your house have a basement with cracked concrete floors, a low ceiling, or an exposed foundation with signs of moisture? If you'd rather have a welcoming family room, guest bedroom and bathroom, it is possible! Almost any level of work to a basement will require a permit from the city. Any changes to the floor plan such as adding a bathroom or creating a bedroom will also require submitting architectural plans to the city as part of the permitting process.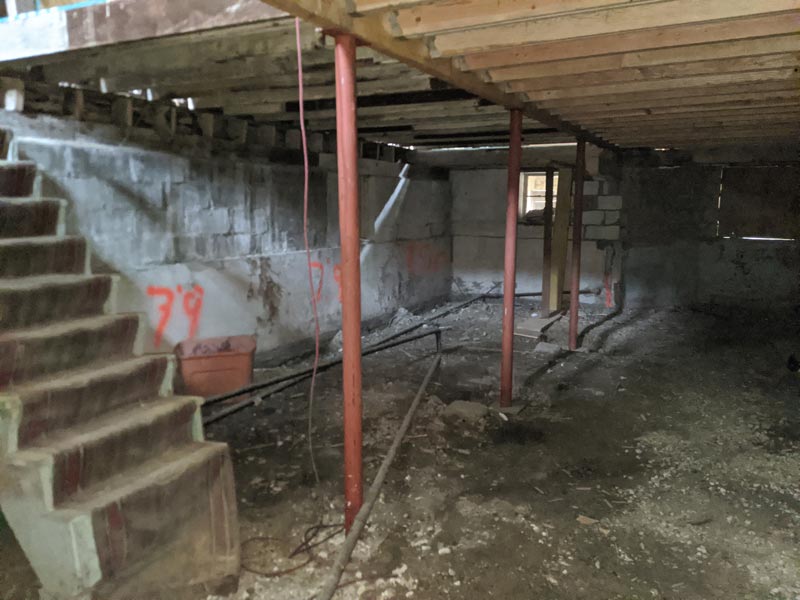 The ceiling height in a finished basement in Chicago must be seven feet. If your basement is shorter, your first option is to dig down. Most worker's cottages in Chicago are built on concrete footings. In the basement, you'll likely see support posts in the middle of the space. Those posts usually have concrete underneath them. To add ceiling height the existing concrete floor can be broken and the soil dug down to the base of those footings. Then a new concrete floor is poured at that level. This can be done without involving an engineer or requiring additional structural support. If you plan to waterproof the basement and add drain tile, you will be breaking up the existing concrete floor anyway. Digging a deeper floor doesn't add too much additional cost.
A contractor can open your existing concrete floor in a small area to see how deep the footings go. If the base of the footing is not deep enough to reach a seven foot ceiling height, there are still other options. The entire structure can be underpinned, or temporarily supported, while new footings are poured lower than the existing ones. This option is expensive and requires the assistance of an engineer and an additional permit.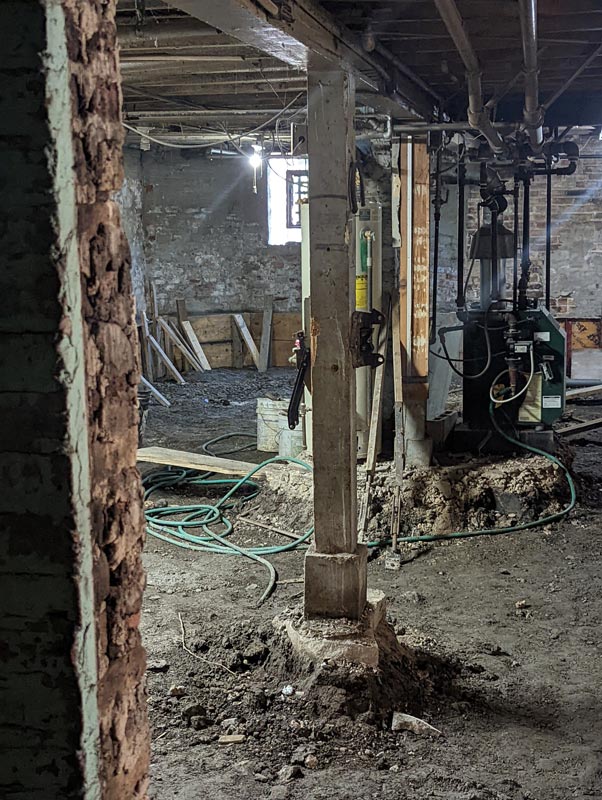 If you plan to spend the money to finish a basement, properly waterproof it first. Flooding or moisture on the floor from heavy rains can lead to mold growth after drywall and flooring are installed. At a minimum, break up the existing floor and install drain tile, a sump pump and a waterproof membrane around all exterior walls. If you plan to dig down to increase the basement height it is easiest to add the drain tile and sump pump system at the same time.
Consider replacing any support posts or beams that are not in good shape during the renovation. Many worker's cottages in Chicago have original posts and beams made of wood. Deteriorated and cracked beams and posts should be replaced with steel. You can evaluate adding a short concrete wall inside of the original stone or brick foundation to add additional support. The stairs leading to the basement in older workers cottages often don't meet current code requirements. They may be too steep or too narrow, etc. If you are pulling permits for the project, plan the budget to update the stairs as well.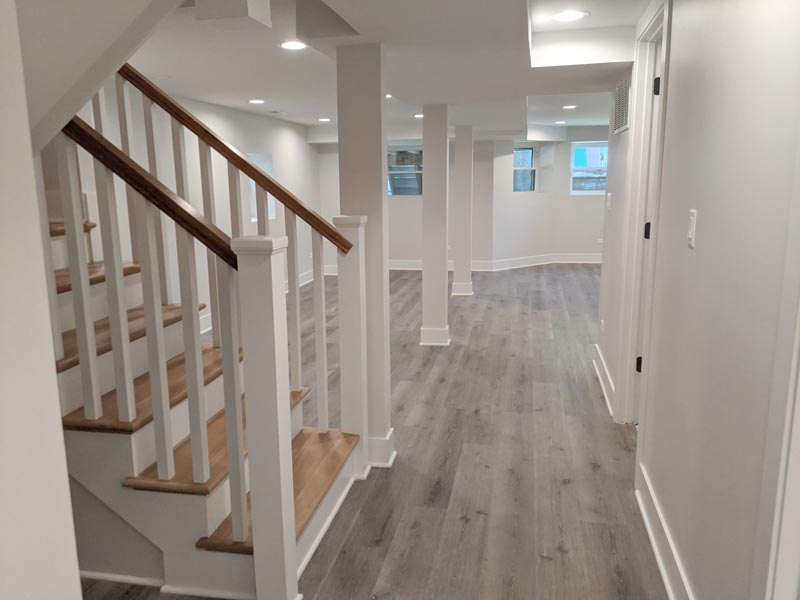 It may seem overwhelming, but with the right team, your worker's cottage basement can become a fully usable living space, adding room in your house!
To learn more practical tips on remodeling or renovating your workers cottage, see Lauren's website www.laurenovation.com.
---
2022 Demolitions in Review
A survey of demolition permits in the City of Chicago from the past year shows that workers cottages continue to be demolished at a high rate in the city. Overall, 801 demolition permits were issued in 2022, down from 895 the year earlier. About 15%, or 124, of last year's demolitions were workers cottages. Most were teardowns to be replaced by new single-family homes or condos.
An additional 11% or 86 permits were emergency demolitions of workers cottages. The vast majority of this second group were vacant houses previously seized by the city after the owner missed several years of tax payments. Altogether 26% of the buildings demolished across the city in 2022 were workers cottages, a disproportionately large share of the overall building types in the city.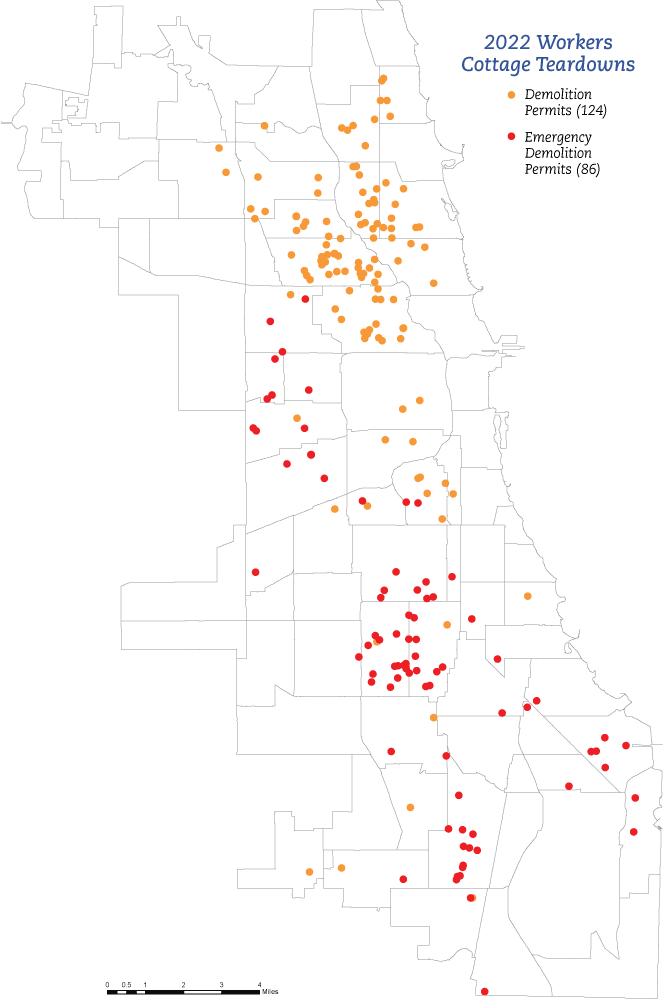 A map of the demolitions shows the disparity in Chicago between areas of gentrification and redevelopment for luxury housing versus areas of disinvestment and distressed housing. In either case, demolitions of workers cottages represent a loss of affordable homes, a loss of city history, and a waste of built resources.
---
Welcome to Your New Home
The Chicago Workers Cottage Initiative recently created a pamphlet promoting workers cottages to prospective homebuyers. The simple four-panel pamphlet explains what a workers cottage is and why these houses are unique and desirable places to live..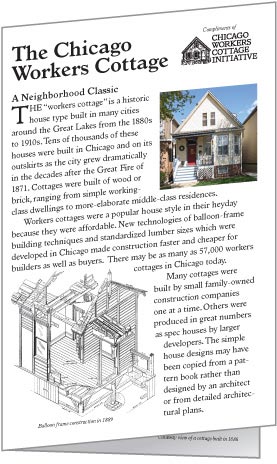 Real estate agents and home sellers are encouraged to download a free pdf of the pamphlet from our website to print and share with buyers who might not be familiar with workers cottages or yet considering these houses in their home search.
Download and print the brochure from the CWCI website
---
Copyright © Chicago Workers Cottage Initiative

Follow us on Instagram

Join the Chicago Workers Cottage Initiative mailing list - unsubscribe