WINTER 2022 — NEWS FROM THE CHICAGO WORKERS COTTAGE INITIATIVE
---
How to Recognize a Workers Cottage

What exactly is a Chicago workers cottage? The Chicago Workers Cottage Initiative has produced a downloadable "Field Guide" for identifying this common type of vernacular architecture. Print a copy and take it along on your neighborhood walks to spot these unique houses out in their native habitat.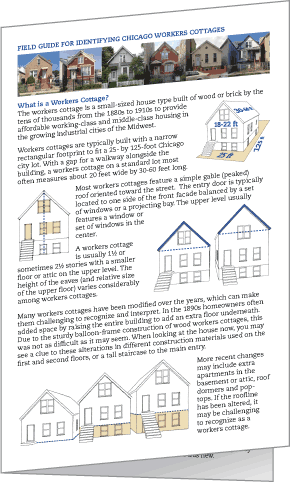 The workers cottage is a small-sized house type built built of wood or brick by the tens of thousands from the 1880s to 1910s to provide affordable housing in the growing industrial cities of the Midwest.
Workers cottages are typically built with a narrow rectangular footprint to fit a 25-foot by 125-foot Chicago city lot. With a gap for a walkway alongside the building, a workers cottage on a standard lot most often measures about 20 feet wide by 30 to 60 feet long.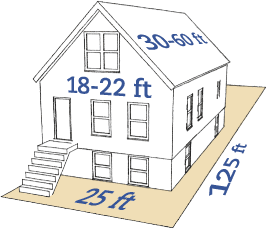 Most workers cottages feature a simple gable (peaked) roof oriented toward the street. The entry door is typically located to one side of the front facade balanced by a set of windows or a projecting bay. The upper level usually features a window or set of windows in the center.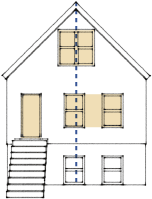 A workers cottage is usually 1½ or sometimes 2½ stories with a smaller floor or attic on the upper level. The height of the eaves (and relative size of the uppper floor) varies considerably among workers cottages.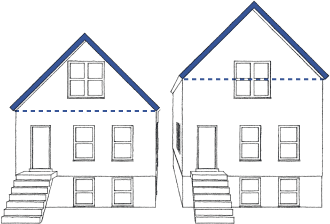 Many workers cottages have been modified over the years, which can make them challenging to recognize and interpret. In the 1890s homeowners often added space by raising the entire building to add an extra floor underneath. Due to sturdy balloon-frame construction of wood workers cottages, this was not as difficult as it may sound. When looking at the house now, you may see a clue to these alterations in different construction materials used on the first and second floors, or a tall staircase to the main entry. More recent modifications may include extra apartments in the basement or attic, roof dormers and pop-tops. If the roofline is especially altered, the building may no longer look much like a workers cottage.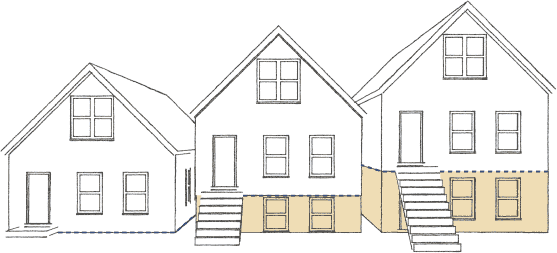 Workers cottages were originally built in a full spectrum of sizes according to the needs of the owner and builder. The taller buildings which have two or more full-sized floors (not including the smaller floor under the roof) may be sometimes considered a "2-flat workers cottage" or "cottage-style 2-flat".


Learn more about how to identify workers cottages
---
Cottages Teardown Summary
Chicago continues to lose workers cottages at a steady rate. In 2021, 248 demolition permits were issued for 1-1/2 story workers cottages across the city. Workers cottages represent over 27% of the 895 demolition permits issued by the city in 2021 for all types of residential and commercial structures.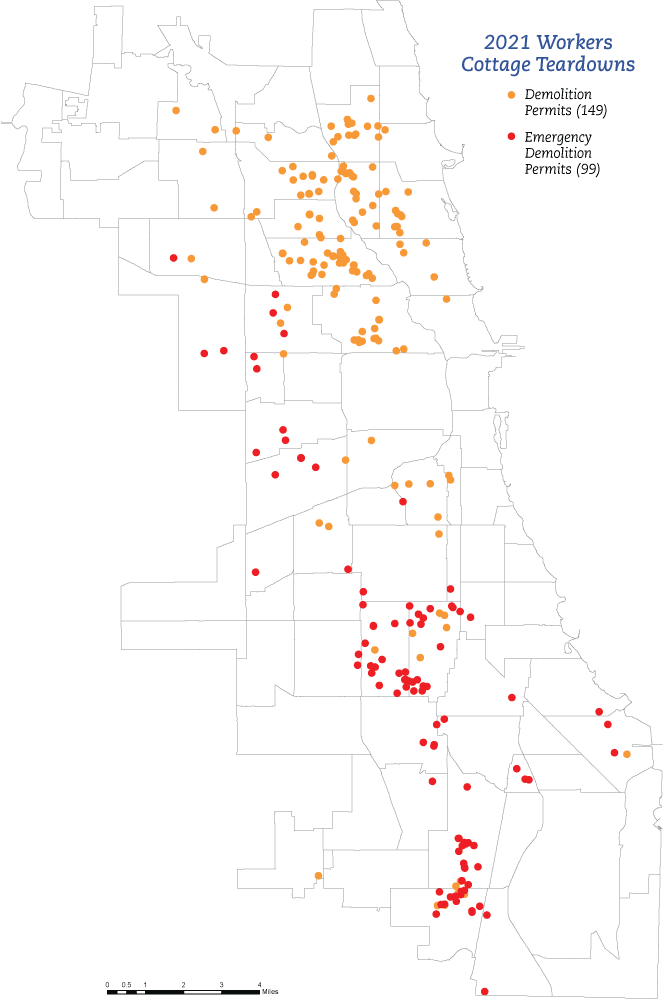 The map of 2021 demolitions shows concentrations of workers cottage teardowns (marked in orange) in Logan Square, North Center, Lincoln Square and a small area of Ukrainian Village in West Town. These are all areas where redevelopment is replacing cottages with million-dollar single-family homes and condominiums. Workers cottages are often especially targeted for teardown by developers in these areas. Many of these homes are in decent condition and could be retained as usable housing if sold to a preservation-minded homeowner.
Elsewhere on the map, there are clusters of emergency demolitions of workers cottages (marked in red) in Englewood, West Englewood, Roseland and West Pullman. Almost all of these properties are owned by the City of Chicago, most likely due to forfeiture from three years or more of unpaid taxes. Some city-owned houses are resold in the Cook County Scavenger Sale, but empty houses which fall into disrepair are likely to be demolished as a public-safety hazard. Helping homeowners with small home-repair loans and property tax relief, such as the recent Cook County "Black and Latino Houses Matter" phone bank, could save these houses years before the threat of demolition.
---
The Basement Grocery
The CWCI recently documented the residential history of a workers cottage in the Little Village neighborhood. Homeowner Cynthia Ferreira grew up down the block and remembers well the previous owner Helen Hadrava, whose family owned the house for over seven decades. "Helen loved cats and had so many," Cynthia says, "When I moved in, the cats didn't want to leave! In her honor I foster cats whenever I can."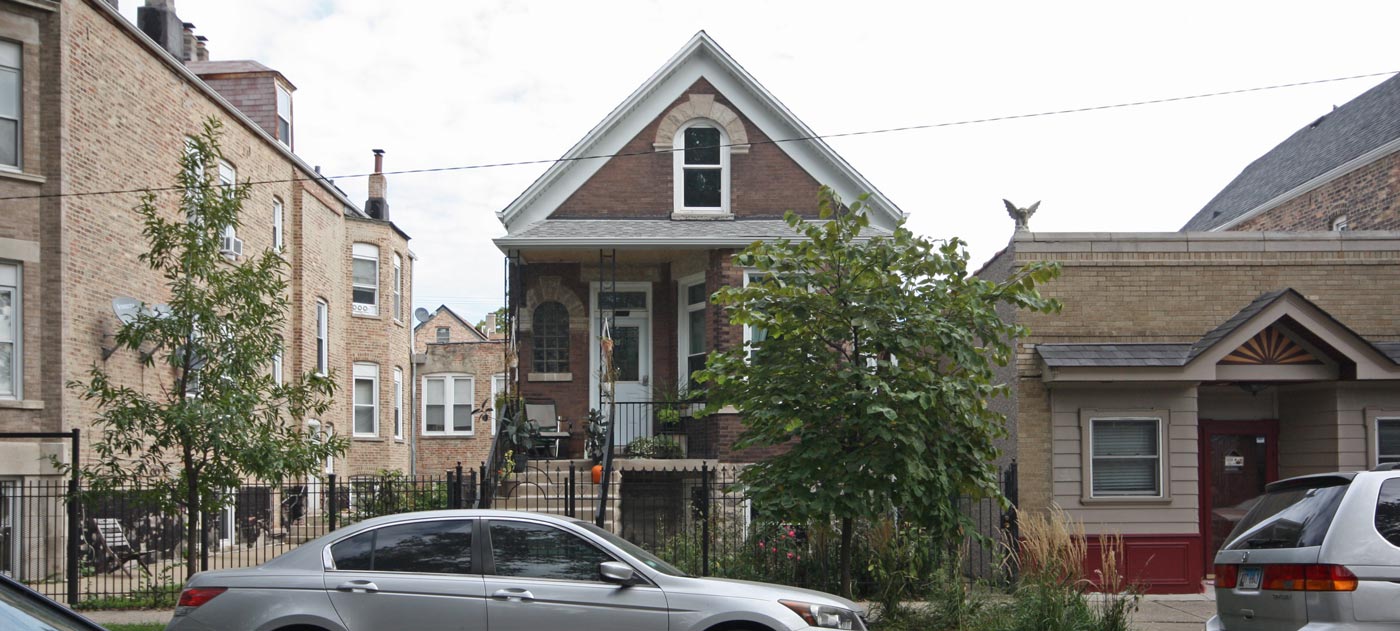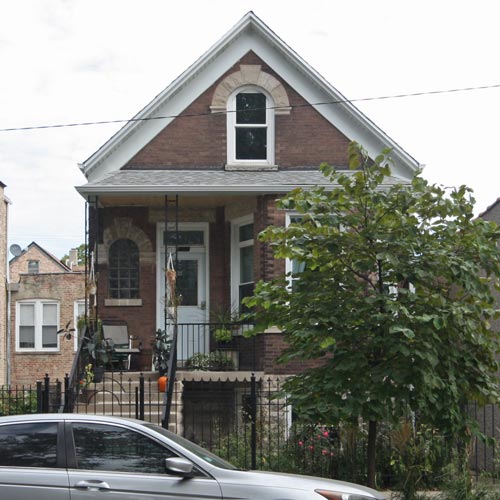 John J. Jankovsky and his wife Marie built the brick cottage in the spring of 1902. John worked as a machinist while Marie cared for the new house and their six children. Their eldest son John was 16 when they moved in. Little William was born just after Christmas the first year the family lived in the house. As the house only had two bedrooms, the three oldest boys may have slept in the attic upper level.
The Jankovsky family only stayed at the Trumbull street cottage for two and a half years before moving on to a two-flat seven blocks west. In August 1904 they sold the cottage to Vojtech "Albert" Lorr and his wife Katherina for $3,200.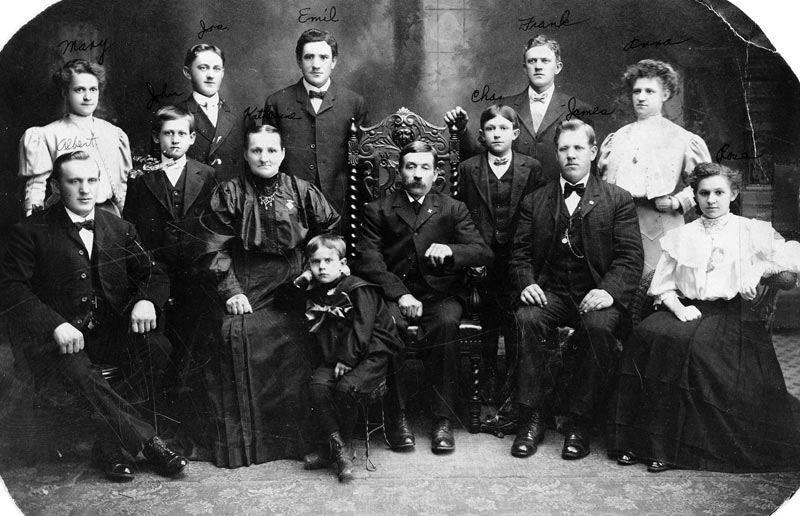 Though their new cottage would have been crowded for a large family, it was likely more space than the apartment over the corner store where they had previously been living. The Lorrs opened a small grocery store in the basement of the cottage, entered by a door under the stairs. Albert passed away just a few years after the family bought the house, but Katherine was able to to raise her youngest children and pay the bills with the support of her family and income from the little grocery in the basement.
Read more about the Little Village cottage
---
Cottage Tidbits
Tonika Johnson's newest project "Inequity for Sale" spotlights workers cottages and other houses impacted by the racist legacy of real estate contract sales - Block Club
Katie Lauffenburger builds miniature ceramic house portraits, including a handsome blue workers cottage which appears in this Block Club article
Denver's new La Alma Lincoln Park Historic Cultural District preserves a mix of cottages and other historic buildings from redevelopment - National Trust for Historic Preservation.
---
Copyright © Chicago Workers Cottage Initiative

Follow us on Instagram

Join the Chicago Workers Cottage Initiative mailing list - unsubscribe