FALL 2021 — NEWS FROM THE CHICAGO WORKERS COTTAGE INITIATIVE
---
Introducing the Chicago Workers Cottage Initiative
The Chicago Workers Cottage Initiative was organized in Spring 2021 to celebrate this housing style, preserve the unique features of these houses and protect them from demolition by promoting their continued use and reuse for the next century.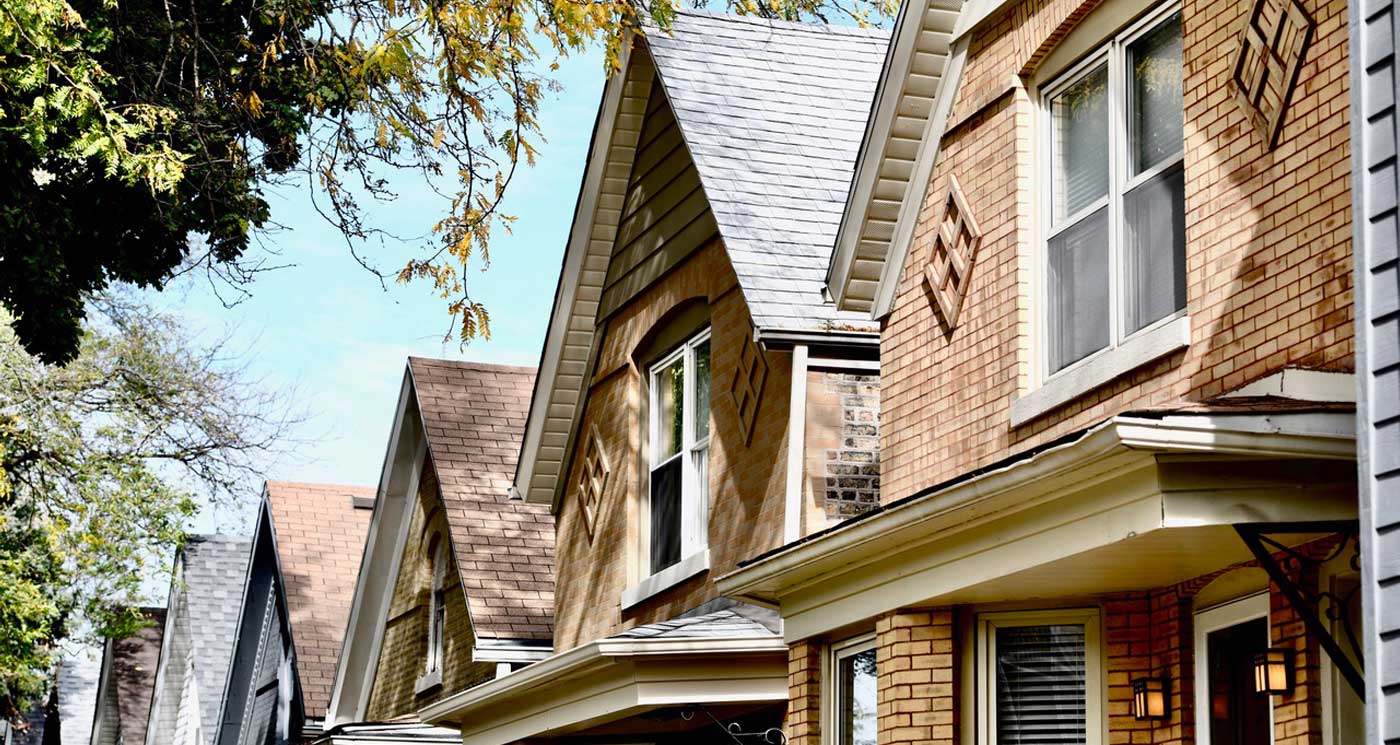 There are currently almost 60,000 workers cottages in Chicago. Most were built during Chicago's dramatic expansion of population and area from the 1880s to 1910s. These modest houses were built for working class families and represent the origins of the "American Dream" of homeownership and the investment and pride of Chicago's new immigrants.
In many of Chicago's neighborhoods undergoing redevelopment, these homes are increasingly targeted for demolition. Preserving workers cottages will retain the continuity of neighborhood history, scale, and character as well as stabilize affordable housing where housing costs are increasing.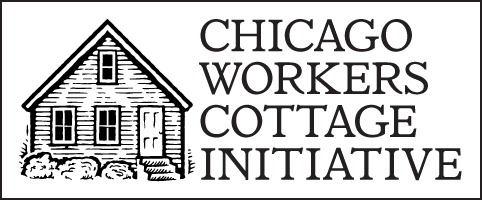 Please join us in our effort to preserve this important part of Chicago history!
---
Logan Square Survey Describes Cottages in Detail
Workers cottages across Chicago are threatened with demolition, especially so in the Logan Square neighborhood. The Chicago Workers Cottage Initiative was founded to identify these historic house types, and advocate for protections and incentives to help homeowners.
To develop standards to assess and identify workers cottages across the city, the CWCI surveyed a pilot area of the Logan Square neighborhood. Quantitative data about the common houses in the sample area helped us better define what exactly is a Chicago workers cottage, in addition to gathering information on the number and condition of the houses.
In the spring of 2021, The Chicago Workers Cottage Initiative partnered with Preservation Chicago and students from the Preservation Planning Studio class at the School of the Art Institute to conduct a field survey of residential buildings in Logan Square. Led by professor Charlie Pipal, grad students London Hainsworth, David Klein, Angelica Ospina, Kesha Patel and Marian Thompson gathered information on the characteristics of workers cottages within the survey area. While the surveyors were looking to locate and identify the workers cottages, they also noted other buildings with historic character for future reference. Information on each building was recorded via smartphone using the Regrid parcel-mapping app by Loveland Technologies.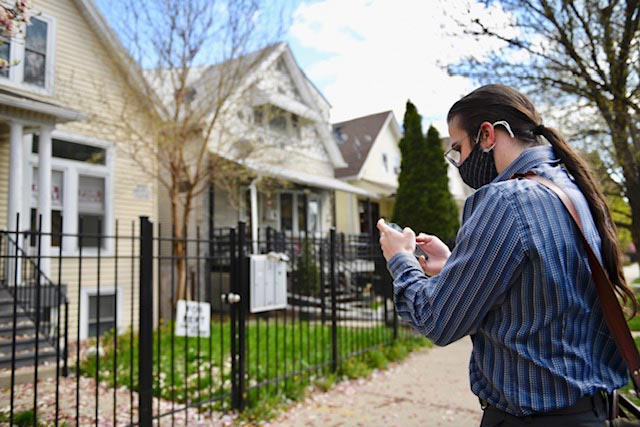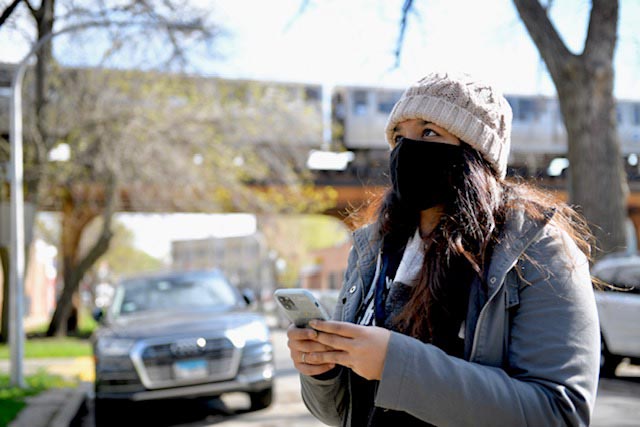 The pilot survey area contained roughly 16 blocks in a square bounded by Armitage, California, Fullerton and Western Avenues. The quarter-mile square area contains about 1,225 properties in a mix of single-family houses, two/three-flats, larger multi-unit apartments and mixed-use commercial buildings. A large number of buildings date to the 1880s when the blocks were first subdivided and developed, a time when this area was just outside the city limits at Western Avenue.
The information gathered by surveyors provides a detailed picture of the buildings in a sample area similar to many other Chicago residential areas. The surveyors identified 198 workers cottages within the survey area, or about 16% of all buildings. Most of the cottages were built between 1880 and 1900 and are wood frame construction. Many have been modified and expanded with rooftop dormers over the years. A large majority of the frame houses are covered in modern vinyl or aluminum siding which may hide their historic character from casual passersby. Despite these superficial appearances, many still retain vintage woodwork and other details which are worthy of preservation.
As in the rest of Logan Square, workers cottages have been the majority of teardowns in this area recently. 31 cottages were lost in this small area in the past 15 years. Without protections against redevelopment, it is likely that a number of the cottages which were surveyed will not survive the next few years.
Discussions early in the survey process and preliminary field data helped refine the definition of what exactly is a Chicago workers cottage. While the classic 1-1/2 story workers cottage is relatively easy to identify, the surveyors discovered many examples of similar houses with a taller basement or first floor beneath, gradually overlapping into what might be called a "two-flat" more than a "cottage."


Though these types of houses are quite common in Chicago, both the workers cottage and gable-roofed two-flat remain somewhat unknown and ill-defined in the minds of many Chicagoans. Naming and identifying these common housing styles will bring focus and attention to their unique features and value for preservation. In this way, the pilot survey has been a useful tool for defining and identifying the workers cottage as a house type all across Chicago.
Read more details of the survey findings.
---
How Many Workers Cottages Are There in Chicago?
Once you are familiar with the characteristics that identify a workers cottage, you may start seeing them everywhere! You are likely to encounter these 1-1/2 story houses in older neighborhoods of Chicago. In some places there are entire blocks of them, in other areas only a few are dispersed between two-flats and other vintage vernacular building types. Maybe you have a few favorite cottages you see often while going to work or walking the dog. But beyond your familiar neighborhood, how many workers cottages are there across the entire city?
Counting the total number of workers cottages in Chicago is not as easy as it might seem. Identifying the houses by in-person surveys and looking at Google Streetview images is very time consuming. The City of Chicago and Cook County both have public databases which list the size and age of buildings, as well as number of dwelling units, property owners and the most recent tax value. But there are no simple identifiers that track workers cottages as a specific house type in that data.
In an attempt to find the number of workers cottages in Chicago, the CWCI sorted Cook County tax assessment data for all residential properties in the city and singled out 1 or 1.5-story residential buildings which were built between 1870-1920 and are less than 2500 square feet, the typical age and size of workers cottages. There are roughly 57,000 houses which fit these criteria which could fit the definition of what is a workers cottage.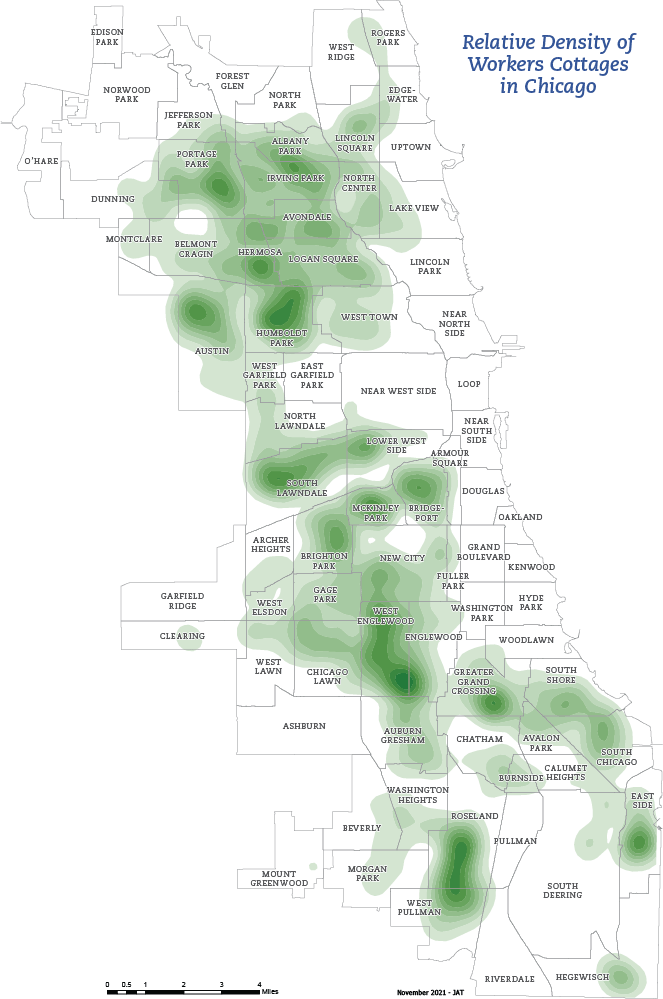 Through in-person walking surveys and examinations of Streetview images, we have more precise information about the exact number of workers cottages in the Logan Square neighborhood. Comparing the list of cottages identified in the Logan Square survey to the list of houses identified from the Cook County database shows that the age and size criteria we chose are fairly accurate in identifying workers cottages. Using the county data is not quite as accurate as identifying the houses visually, and the true count may be off by a few hundred or more, but it provides a simple and fairly close estimate of the number of historic cottages still standing in Chicago and where they are located.
As preservationists working to protect these 57,000 historic houses, we have a big job ahead of us.
---
Learning the Stories of Chicago's Workers Cottages
To better understand the history of Chicago workers cottages, the CWCI is making a close study of several well-preserved examples of cottages in various areas of the city.
An important part of our study is documenting these houses in detailed floor plans and other architectural drawings. At the time when workers cottages were built, the houses were simple enough that skilled carpenters and builders needed only a rough plan of the dimensions of the building to complete it. It is unlikely that any builders used measured architectural drawings as we are familiar with today, or were used at that time for larger architect-designed houses.
Few records survive of the floor plans of humble workers cottages from the time they were built. Drawing detailed plans of these buildings creates a valuable record of the interior structure of these houses, which will be useful for finding similarities and differences in houses which might otherwise look similar on the exterior.
A few workers cottage owners have volunteered their homes for our study. Intern Jordan Vela and Tom Vlodek visited Marcy Marzuki's house at 1932 N. California Avenue in Logan Square in the early summer 2021 to measure and photograph the interior.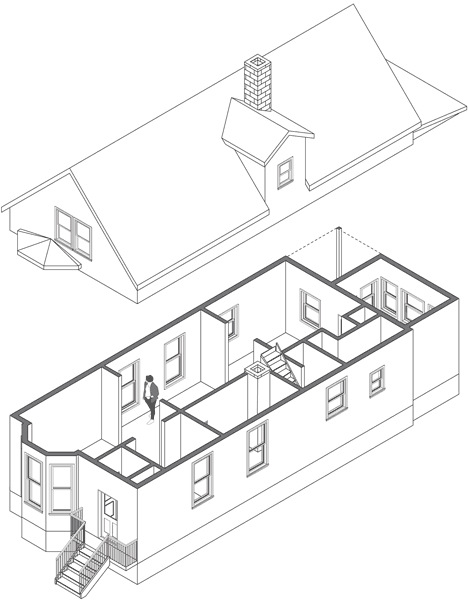 Documenting the history of individual workers cottages can also be challenging due to a lack of written records. The building permits for smaller houses built in the late 19th century often do not appear in archived city files at the Chicago History Museum, or include only a small amount of information about each house. Property records, fire insurance maps and newspaper searches can help piece together a bit more of the story of the house.
In the case of Marcy's house, she had spent several years investigating its history and searching for information about previous owners. A vintage school book and other items found inside a wall during remodeling added clues about who had lived in the house in the past.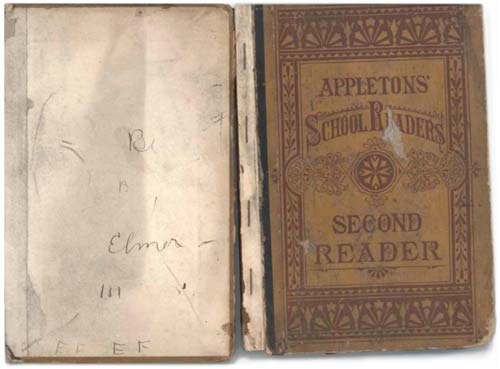 Property records at the Cook County Recorder of Deeds list the previous owners of the house at different times. Marcy looked up information about the previous residents on online genealogy websites and was able to put together a story of how each family came to live in the house at various times, and even found a few photos of previous residents. CWCI researcher Matt Bergstrom helped piece together more of the story of the carpenter who built the house and other houses in the nearby area.
The history of this one house is unique to its place and the families who lived here, but it is also part of the larger story of Chicago and how workers cottages provided a home for working class families in the city, a story which is often underappreciated and little recorded compared to other aspects of Chicago history.
We look forward to learning more about the history of other cottages in other neighborhoods as we continue our documentation of these historic houses! Read more about the story of Marcy's cottage.
---
So Long, Farewell
Across the city, workers cottages are steadily being demolished for redevelopment, or are falling into neglect. Here are a few of the Chicago cottages which have stood for over a century but were recently permitted for demolition. Peace to the memory of all the families and individuals who once called these places home.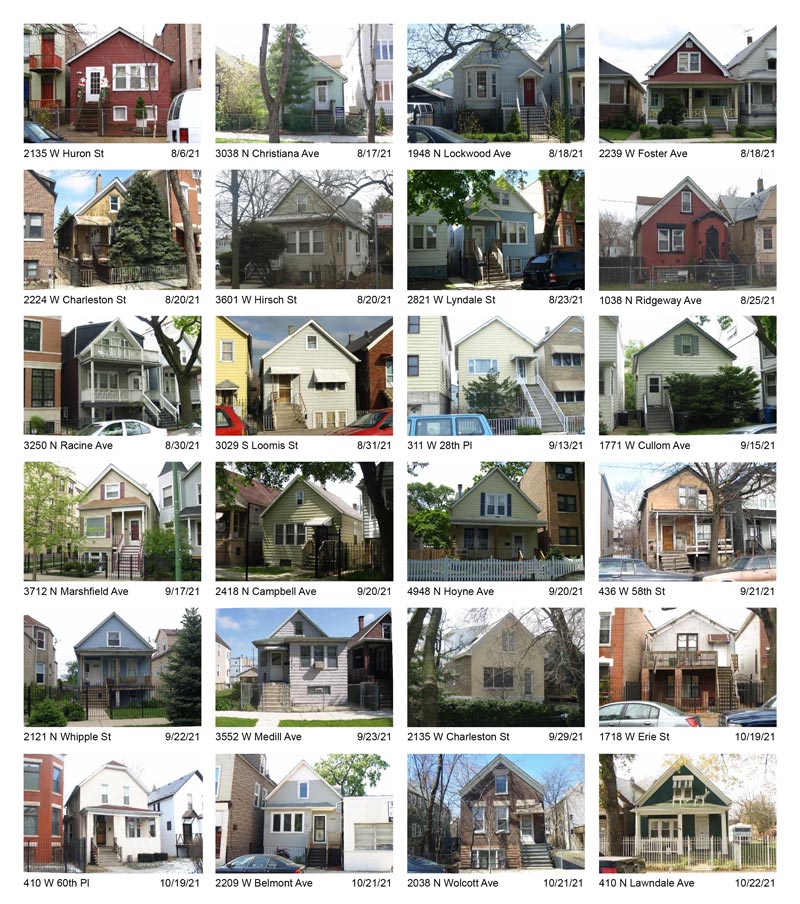 ---
Copyright © Chicago Workers Cottage Initiative

Follow us on Instagram

Join the Chicago Workers Cottage Initiative mailing list - unsubscribe